Your binder contains too many pages, the maximum is 40.
We are unable to add this page to your binder, please try again later.
This page has been added to your binder.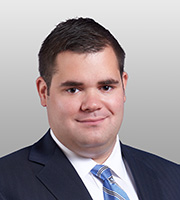 Matthew Shapanka represents and counsels corporate, political, and individual clients in criminal, regulatory, and policy matters before government agencies and Congress. He also advises candidates, companies, PACs, nonprofits, and high net worth individuals on compliance with federal and state campaign finance, election, and lobbying laws.
Prior to attending law school, Mr. Shapanka worked as a research analyst in the Massachusetts Recovery & Reinvestment Office, where he worked on all aspects of state-level policy, communications, and compliance for federal stimulus funding awarded to Massachusetts under the American Recovery & Reinvestment Act of 2009. He has also worked for federal, state, and local political candidates in Massachusetts and New Hampshire.
Advising corporate (for-profit and non-profit), political, and high net worth individual clients, including candidates, PACs, Super PACs, and trade associations, regarding:

Federal and state campaign finance laws and regulations;
Federal and state pay-to-play rules; and
Federal and state lobbying and ethics laws.

Representing Fortune 200 technology company on intellectual property policy and legislation.
Representing trade association on intellectual property policy and legislation.
Representing large pension fund on pension policy and legislation.
Representing major financial institutions in investigations before congressional committees.
Represented multiple large pharmaceutical companies responding to Freedom of Information Act (FOIA) requests before federal agencies.
Represented individual criminal defendant in federal conspiracy and bribery prosecution.
Representing national homelessness advocacy organization on housing legislation before Congress and the Administration.
Representing newspaper in First Amendment prison censorship litigation.
Representing Alabama inmate attacking capital sentence in state habeas corpus proceedings.
Successfully represented Native American tribe in securing formal legislative recognition in the State of Delaware.
Memberships and Affiliations
American Bar Association
Massachusetts Bar Association
American Constitution Society
Tufts Lawyers Association, Board Member
National Eagle Scout Association
Law clerk for state senate candidate in successful defense of ballot access before the Massachusetts State Ballot Law Commission. Allen v. Lesser, Mass. SBLC 14-01 (June 20, 2014).
United States Attorney's Office for the District of Massachusetts, Intern, Economic Crimes Unit (2014).
United States District Court for the District of Columbia, Judicial Intern, Hon. Amy Berman Jackson (2012).
Commonwealth of Massachusetts Recovery & Reinvestment Office, Research Analyst (2009-2011).