Antonio Michaelides
Associate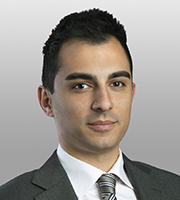 Antonio Michaelides advises clients in heavily regulated sectors on a broad range of cross-border corporate governance and transactional matters in both Europe and the Middle East. He has particular expertise in helping clients navigate international HR-legal compliance issues—including labor laws, international equity compliance and immigration matters.
Mr. Michaelides advises clients across a range of industries on both larger strategic projects arising out of company restructures and global mobility arrangements, and day-to-day HR-legal matters.
Mr. Michaelides has extensive experience with government affairs and regulatory matters in the GCC—advising government entities, as well as private companies, on a variety of regulatory and compliance issues. He previously advised free zone authorities in the Emirate of Dubai on employment and immigration matters, including amendments to the DIFC Employment Law and the application of the DMCC Employment Regulations.
Given his expertise in the free movement of people and establishment issues, Mr. Michaelides is a key member of the firm's Brexit Taskforce which is advising a range of clients on the impact and implications of Brexit.
Clients appreciate his responsiveness and business-focused advice, and benefit from his cultural awareness and extensive language skills in the context of managing international projects. He has managed a number of large-scale international assignment projects involving the assignment of employees from Europe and the U.S. to the Middle East (and vice-versa).
In addition, Mr. Michaelides has presented, and provided training, to clients and external organizations on the challenges of international assignment management and other common global mobility issues.