Our Website Uses Cookies
We and the third parties that provide content, functionality, or business services on our website may use cookies to collect information about your browsing activities in order to provide you with more relevant content and promotional materials, on and off the website, and help us understand your interests and improve the website.
For more information, please contact us or consult our Privacy Notice.
Your binder contains too many pages, the maximum is 40.
We are unable to add this page to your binder, please try again later.
This page has been added to your binder.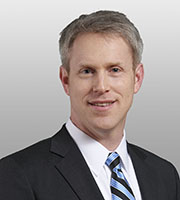 Ashden Fein advises clients on cybersecurity and national security matters, including crisis management and incident response, government and internal investigations, and complex regulatory matters.
For cybersecurity matters, Mr. Fein specifically counsels clients on preparing for and responding to cyber-based attacks, assessing their security controls and practices for the protection of data and systems, developing and implementing cybersecurity programs, and complying with federal and state regulatory requirements. Mr. Fein also has been the lead investigator and crisis manager for multiple complex cyber and data security incidents, including data security breaches involving millions of affected consumers, advanced persistent threats targeting intellectual property across industries, state-sponsored theft of sensitive U.S. government information, and destructive attacks.
On national security issues, Mr. Fein assists clients with sensitive national security investigations and responding to government inquiries. He also advises aerospace, defense, and intelligence contractors on security compliance, including under the National Industrial Security Program (NISPOM) and U.S. Government cybersecurity regulations. He represents foreign and domestic clients in various industries in securing the approval the Committee on Foreign Investment in the United States (CFIUS), as well as ongoing compliance matters related to mitigation agreements with CFIUS.
While on active duty, he specialized as a military prosecutor focused on cybercrime and national security investigations and prosecutions -- to include serving as the lead trial attorney in the prosecution of Privacy Chelsea (Bradley) Manning for the unlawful disclosure of classified information to Wikileaks.
Mr. Fein currently serves as a Judge Advocate in the U.S. Army Reserve.
Counsel to multiple Fortune 100 companies in responding to data and cybersecurity incidents, including, among others, stolen personal information and multiple attacks by Advanced Persistent Threats directed at the intellectual property or sensitive data of defense, life sciences, and technology companies.
Represents clients before the Federal Trade Commission, Department of Defense, and the Intelligence Community on cybersecurity and data breach matters.
Represent clients from across industries with development of cyber and information security policies, including incident response preparation and training.
Advise companies on issues of cybersecurity, cooperation with law enforcement, and public policy.
Counsel to cleared U.S. companies in responding to government investigations of sensitive national security matters, compliance with the NISPOM and specific security requirements, and FOCI mitigation.
Counsel to multiple foreign-owned companies on data and cybersecurity issues involved in national security reviews conducted by the Committee on Foreign Investment in the United States (CFIUS).
Represent non-profit organizations to assist with development of global cybersecurity and privacy policies.
Memberships and Affiliations
U.S. Army Reserve, Judge Advocate General Corps
American Bar Association, Standing Committee on Law and National Security and Information Security Committee
Lead Trial Attorney, United States v. Private Chelsea (Bradley) Manning (WikiLeaks), United States Army (2010-2014)
Division Chief and Senior Trial Attorney, United States Army (2009-2010)
Brigade Judge Advocate and Trial Attorney, United States Army (2008-2009)
Military Intelligence Officer and Counterintelligence Agent, United States Army (2002-2007)
Cybersecurity Docket, "Incident Response 30" (2019)