Our Website Uses Cookies
We and the third parties that provide content, functionality, or business services on our website may use cookies to collect information about your browsing activities in order to provide you with more relevant content and promotional materials, on and off the website, and help us understand your interests and improve the website.
For more information, please contact us or consult our Privacy Notice.
Your binder contains too many pages, the maximum is 40.
We are unable to add this page to your binder, please try again later.
This page has been added to your binder.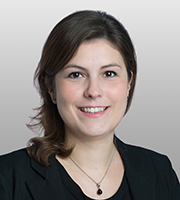 Sarah Cowlishaw is an associate in the London Life Sciences group who joined the firm as a trainee solicitor in 2009.
Ms. Cowlishaw's practice focuses on life sciences regulatory and commercial law for pharmaceutical, medical device, food, and consumer products. Her advice on general regulatory matters includes borderline determinations, food classifications, adverse event and other reporting obligations, manufacturing controls, and labeling and promotion. On the commercial side, she advises on the full range of agreements that span the product life-cycle in the life sciences sector.
Her expertise includes clinical trial agreements, manufacturing and supply agreements, distribution and other marketing agreements and regulatory services agreements. She also regularly advises on regulatory aspects of corporate/commercial transactions, particularly regulatory due diligence.
Advising pharmaceutical and medical device companies on the regulatory status of borderline products.
Advising pharmaceutical and medical device companies on compliance with applicable marketing laws and codes of practice.
Regulatory and commercial due diligence for pharmaceutical, medical device and food companies.
Negotiation and review of life sciences commercial arrangements, including clinical trial agreements, wholesaler arrangements and pharmaceutical manufacturing and supply contracts.
Advising food/cosmetic clients on product claims and ingredient reviews.
Co-ordinating international projects on advertising/promotion and clinical research.
Advising the Restoration of Appearance and Function Trust (RAFT) on the classification of a wound healing product containing human blood derivatives.
Assisting in a pro-bono project aimed at improving regulatory systems for clinical trials of drugs and vaccines for neglected diseases in developing countries.
Secondment to the in-house legal department of a multinational pharmaceutical company.
Secondment to the in-house legal department of an international pharmaceutical company, based in Germany.