Your binder contains too many pages, the maximum is 40.
We are unable to add this page to your binder, please try again later.
This page has been added to your binder.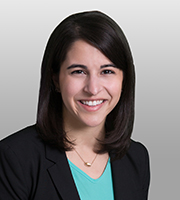 Amy Leiser is an associate in the firm's Washington, DC office, where she is a member of the Food, Drug, and Device group. She advises pharmaceutical, biotechnology and device companies on a variety of regulatory and compliance issues.
Advised on compliance with ClinicalTrials.gov registration and reporting requirements.
Advised on regulatory compliance issues regarding drug listing.
Drafted report about FDA's expedited programs.
Conducted international survey regarding regulation of biosimilar products.
Advised on development of quality agreements for contract manufacturing.
Represented Federally Qualified Health Center (FQHC) in preparing public comments concerning FDA blood donation guidelines.
Advised non-profit organization on redistricting laws and procedures in various states.
Conducted survey of state Medicaid and prescriptive authority laws for health care non-profit.
Represented national advocacy organization in judicial vetting matter.
Merck & Co. Inc., Associate Specialist, Engineering (2012-2013)