Tarek M. Khanachet
Of Counsel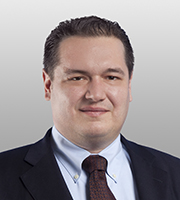 Tarek Khanachet advises clients across a broad range of complex international regulatory, government affairs and corporate matters focused on Turkey, the Middle East and Gulf States. From 2011 to 2013 he was resident in Saudi Arabia, advising the Economic Cities Authority of the Kingdom of Saudi Arabia on regulatory development, as well as outsourcing and licensing transactions.
Mr. Khanachet has extensive experience with government affairs and regulatory matters in the region ‒ advising government entities as well as private companies on matters as diverse as treaty interpretation, trade policy and market access issues and blocks.
His corporate practice includes public-private partnerships, infrastructure projects, cross-border mergers and acquisitions, finance and commercial transactions. In addition to corporate and government affairs, Mr. Khanachet has assisted clients with complex regulatory and white collar enforcement and investigations.