Our Website Uses Cookies
We and the third parties that provide content, functionality, or business services on our website may use cookies to collect information about your browsing activities in order to provide you with more relevant content and promotional materials, on and off the website, and help us understand your interests and improve the website.
For more information, please contact us or consult our Privacy Notice.
Your binder contains too many pages, the maximum is 40.
We are unable to add this page to your binder, please try again later.
This page has been added to your binder.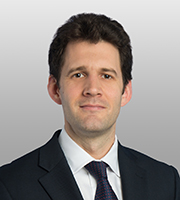 Brian Kelly is a partner in the London Life Sciences group, whose practice focuses on EU food and drug regulatory law, public and administrative proceedings, internal investigations, European Union law and product liability and safety. Chambers UK Guide to the Legal Profession has described him as a "talented" lawyer, who "receives very encouraging feedback from clients", and notes "his impressive attention to detail." According to the Legal 500 UK Guide, the team has "notable expertise in food law regulation, led by 'excellent analyst' Brian Kelly." He is "'highly competent in understanding legal and technical biological issues" and "strong on food and drink product liability."
Mr. Kelly's advice on general regulatory matters across all sectors includes borderline determinations, food classifications, tissue and stem cell regulation, adverse event and other reporting obligations, manufacturing controls, labeling and promotion, pricing and reimbursement/procurement, product life cycle management (foods and medicines), nanotechnology, and anti-bribery and corruption advice.
Mr. Kelly has also advised and co-ordinated international projects on advertising/promotion, clinical research, data protection, the regulatory status of borderline products, food/cosmetic ingredient reviews and advises on regulatory aspects of corporate/commercial deals, particularly regulatory due diligence.
Mr. Kelly is also experienced in representing clients in administrative and enforcement proceedings before regulatory authorities and in the UK and EU courts.
Mr. Kelly is an honorary lecturer at University College London.
Advise on digital health and health information issues to clients in the software, telecoms and life science industries.
Represented clients in UK and EU judicial review proceedings and other administrative actions, in particular relating to health claims on foods, transparency of clinical trial reports, data exclusivity.
Successfully represented clients in relation to advertising and labeling disputes before the Advertising Standards Authority and Prescription Medicines Code of Practice Authority (PMCPA).
Administrative and procurement law challenges to healthcare-related tender decisions.
Advice and successful representation before the National Institute for Health and Clinical Excellence (NICE).
Regulatory advice to life sciences companies on establishing joint working and risk-sharing relationships with the NHS in England and Wales.
Advising food clients on general and specialist EU matters involving health and nutritional claims, PARNUTS, novel foods, genetically modified foods, borderline/classification issues and ingredient reviews.
Advising and co-ordinating international food and cosmetic safety matters and recalls.
Regulatory due diligence for a number of food, drug and cosmetic companies.
Represented a couple in challenging a decision of a UK health authority to refuse medical treatment.
Advising the Restoration of Appearance and Function Trust (RAFT) on the classification of a wound healing product containing human blood derivatives.
Memberships and Affiliations
Digital Health Legal, Editorial Board Member
Trained with Covington & Burling LLP
Schering-Plough Limited, seconded to the in-house legal team
Science and Technology Reporter for Clinica World Medical Technology News
Clinical News Editor for Pulse, a national medical newspaper
International Law Office Clients Choice Awards 2015, Healthcare & Life Sciences Law – UK
Chambers UK, Life Sciences: Regulatory (2019)
Chambers UK, Product Liability: Food (2019)
Chambers UK, Product Liability: Food "Up and Coming" (2018) and Food "Star Associate" (2015-2017)
Chambers UK, Product Liability - Mainly Defendant (2013-2015)
Chambers Europe, Regulatory: Agro/Food (2018) and TMT (2017-2018)
Legal 500 EMEA, EU Regulatory - Food (2016-2017)
Legal 500 UK, Product Liability (2012-2016)
Legal 500 UK, Pharmaceutical Liability & Biotechnology (2015-2016)
Medical Journalist of the Year, UK Medical Journalists' Association Awards (November 2002)