Our Website Uses Cookies
We and the third parties that provide content, functionality, or business services on our website may use cookies to collect information about your browsing activities in order to provide you with more relevant content and promotional materials, on and off the website, and help us understand your interests and improve the website.
For more information, please contact us or consult our Privacy Notice.
Your binder contains too many pages, the maximum is 40.
We are unable to add this page to your binder, please try again later.
This page has been added to your binder.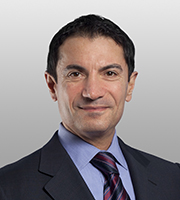 Stephen Infante is head of Covington's Private Equity practice. He has broad experience in mergers and acquisitions and private equity transactions, and also practices in the areas of corporate governance, securities, and finance. His experience includes public and private acquisitions and divestitures, "going private" transactions, recapitalizations, and other leveraged transactions, minority investments, cross-border transactions and joint ventures, as well as representation of investment banks as financial advisors in M&A transactions.
Mr. Infante represents clients in a variety of industries including life sciences, energy, technology, industrials, communications and media.
Represented the Special Committee of the Board of Directors of Atlas Pipeline Partners, L.P. in its $5.8 billion merger with Targa Resource Partners L.P.
Represented Ascension Health, the largest non-profit health system in the U.S., in its investment in Accretive Health, Inc. and in connection with an investment by TowerBrook Capital Partners in Ascension's TriMedx healthcare technology management services business.
Represented SK Holdings in its acquisition of a significant minority interest in Eureka Midstream.
Represented the Sorbaro family and Mavis Tire, the largest independent tire retailer in New York, in connection with a significant minority investment in Mavis by ONCAP Management Partners, and represented Mavis Tire in the subsequent acquisition of Somerset Tire Service, another large retail tire chain.
Represented ONCAP Management Partners in its acquisition of Tecta, the nation's premier commercial roofing contractor, from funds managed by Oaktree Capital Management.
Represented AstraZeneca in its $1.3 billion acquisition of Ardea Biosciences; and its acquisition of Bristol-Myers Squibb's interests in the companies' diabetes alliance for an initial consideration of $2.7 billion and up to $1.4 billion in regulatory, launch, and sales-related payments.
Represented MedImmune, AstraZeneca's biologics arm, in its acquisition of Amplimmune for $225 million upfront and additional potential milestone payments.
Represented Actelion Ltd. in its acquisition of Ceptaris Therapeutics for $250 million upfront and additional potential payments based on net product sales and achieving milestones.
Represented Resource Capital Corp. in the sale of its Northport Capital finance business to a partnership of CVC Credit and Coller Capital.
Represented Octavian Advisors and Octavian Global Partners in connection with TPG Special Situations Partners acquiring a significant stake in, and taking over management of, the Octavian investment funds.
Charlesbank Capital Partners in its investment in Universal Technical Institute in its acquisition and sale of Aurora Organic Dairy, in its acquisition and sale of The GSI Group, in acquisitions of Zenith Products, The Horn Companies, Cedar Creek Lumber, and Peacock Engineering Company, in its sale of American Tire Distributors, and in its formation of Blacksmith Brands, which purchased the Efferdent, Luden's and PediaCare brands from Johnson & Johnson, and subsequent sale of Blacksmith Brands to Prestige Brands.
The Special Committee of the Board of Directors of Atlas Energy, L.P. in its acquisition of upstream oil and gas assets from its former parent, Atlas Energy, Inc., in connection with Chevron's purchase of Atlas Energy, Inc.
SandRidge Energy in its $1.6 billion acquisition of Arena Resources, in its $1.275 billion acquisition of Dynamic Offshore Resources and in its defense of a proxy contest initiated by TPG Axun.
Joy Global in its $1.1 billion acquisition of LeTourneau Technologies from Rowen Companies and the subsequent sale of LeTourneau's drilling systems business to Cameron International.

Boehringer Ingelheim in its acquisition of certain animal health products being divested in connection with the Pfizer-Wyeth merger.

Medarex in its $2.4 billion merger with Bristol-Myers Squibb.

Kerr-McGee in its $18 billion merger with Anadarko Petroleum, in its defense and settlement of a proxy contest initiated by Carl C. Icahn and JANA Partners, in a $4 billion "Dutch" auction self tender offer and related spin-off of its chemicals business, and in its $3.4 billion acquisition of Westport Resources and related $650 million senior notes offering.

The Special Committee of Independent Directors of Charlotte Russe on its $380 million acquisition by Advent International and its successful defense of a proxy contest initiated by KarpReilly LLC.

JLG Industries in its $3.2 billion merger with Oshkosh Truck Corporation.

Resource Capital in the restructuring of its investment in Leaf Commercial Capital undertaken in connection with an investment in Leaf by EOS Partners, L.P. and its affiliates.
Abbott Laboratories in its $3.7 billion acquisition of KOS Pharmaceuticals, Inc.

Paramount Acquisition Corp., a healthcare-focused special purpose acquisition company, in its acquisition of ChemRx, an institutional pharmacy.

Biotechnology company, Encysive Pharmaceuticals, in its exploration of strategic alternatives, which resulted in the sale of the company to Pfizer.

Intercel AG, an Austrian biotechnology company, in its acquisition of Iomai Inc., a publicly-traded vaccine developer.

Computer Associates in its acquisitions of PestPatrol, Sterling Software, Platinum Technology, Legent, ASK, and Cheyenne Software, as well as the divestiture of its ACCPAC International division to The Sage Group.

IAC in its acquisition of Precision Response Corporation, the merger of Ticketmaster Online and CitySearch, and the acquisition of a number of cable networks.

RL Childrenswear in its sale to Polo Ralph Lauren.

Aetna US Healthcare in the sale of its Human Affairs International behavioral healthcare services division to Magellan Health Services.

Wella AG in its acquisition of Johnson Products, Toni & Tina Cosmetics, and Yardley of London.

Physician Support Systems in the acquisition of companies providing billing services for physicians, physicians groups, and hospitals and in its sale to National Data Corporation.

Vivendi Universal Entertainment in the sale of its Newsworld International cable television network to an investment group led by former Vice President Al Gore.
Legal 500 US, M&A: Large Deals (2013-2014)