Your binder contains too many pages, the maximum is 40.
We are unable to add this page to your binder, please try again later.
This page has been added to your binder.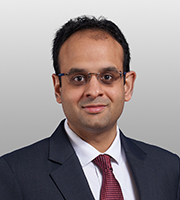 Nikhil V. Gore's practice in the international and financial institutions groups focuses on complex international disputes, cross-border financial investigations, and other contentious arbitration, litigation and enforcement matters.
Representation of a global financial institution in connection with an investigation of international money laundering, foreign corruption, and related issues.
Representation of a major pharmaceutical company in an investment arbitration.
Representation of a sovereign state in law of the sea matters.
Representation of Synchrony Financial and GE Capital in connection with Synchrony's separation from GE Capital, its approximately $2.95 billion initial public offering and a related $3.6 billion debt offering.
Representation of a sovereign state on head of state immunity matters.
Representation of a major natural resource company in an investment dispute.
Regular representation of financial institutions with respect to anti-money laundering, UDAAP and fair lending issues.
Mr. Gore is involved in the firm's pro bono representation of criminal defendants in Maryland courts.
Memberships and Affiliations
Professorial Lecturer in Law (International Arbitration), George Washington University Law School
Member, American Society of International Law
National Serviceman, Singapore Armed Forces (2006-2008)