Our Website Uses Cookies
We and the third parties that provide content, functionality, or business services on our website may use cookies to collect information about your browsing activities in order to provide you with more relevant content and promotional materials, on and off the website, and help us understand your interests and improve the website.
For more information, please contact us or consult our Privacy Notice.
Your binder contains too many pages, the maximum is 40.
We are unable to add this page to your binder, please try again later.
This page has been added to your binder.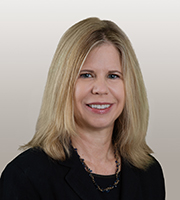 Named a top lobbyist by The Hill, Holly Fechner manages teams that handle public policy, government affairs and regulatory matters for clients. She provides comprehensive advocacy services, including strategic advice, substantive legal and regulatory expertise, and policy and message development. Ms. Fechner is a member of the firm's Political Action Committee board of directors, co-chair of the Industries, Regulatory and Legislative practices, and a visiting lecturer at the Harvard Kennedy School of Government. Nationally ranked by Chambers, she is "recognized for her relationships in Congress and is described by the market as a 'brilliant lawyer.'"
Provide comprehensive government affairs services to a Fortune 50 technology company.
Represent a Fortune 200 technology company on intellectual property policy and legislation.
Provide comprehensive government affairs services to a global biotechnology company.
Advise a multi-billion dollar pension trust fund on matters before Congress and the Administration.
Advised a financial services company on ERISA matters before the Administration and Congress.
Provide comprehensive government affairs services to a global medical device company.
Represented a national health plan on Affordable Care Act implementation.
Advocated on behalf of a Fortune 100 technology company on tax legislation before Congress.
Represented a coalition of states on Medicare and Medicaid legislation.
Represented a wind energy company on tax and energy legislation.
Facilitated a coalition of companies and environmental groups and represented them before Congress on climate change legislation.
Advised a large non-profit organization on criminal justice and workforce training issues.
Represented a Fortune 100 financial services company in a congressional investigation.
Memberships and Affiliations
Harvard Kennedy School of Government, Visiting Adjunct Lecturer
Senator Edward M. Kennedy (D-Massachusetts), Policy Director
Senate Health, Education, Labor & Pensions Committee, Chief Labor & Pensions Counsel
The Hill, "Top Lobbyist: Hired Guns" (2013-2017)
Chambers USA - America's Leading Business Lawyers, Government: Government Relations (2012-2018)
Legal 500 US, Government - Government Relations (2015-2017)