Our Website Uses Cookies
We and the third parties that provide content, functionality, or business services on our website may use cookies to collect information about your browsing activities in order to provide you with more relevant content and promotional materials, on and off the website, and help us understand your interests and improve the website.
For more information, please contact us or consult our Privacy Notice.
Your binder contains too many pages, the maximum is 40.
We are unable to add this page to your binder, please try again later.
This page has been added to your binder.
Kerry Shannon Burke
Partner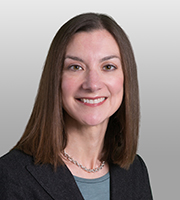 Kerry Shannon Burke has more than twenty years of experience helping public and private companies structure and execute capital markets and finance transactions. Ms. Burke specializes in assisting issuers, ranging from development stage ventures to large public companies, as well as underwriters and other institutional investors, with private and public debt and equity financings.She also assists public companies on corporate governance developments, and private companies on IPO readiness, including with respect to board and committee independence, internal and disclosure controls, compliance program design and similar matters. Ms. Burke regularly advises on securities and general corporate matters, including periodic reporting under the Securities Exchange Act and on other securities law compliance issues.
Ms. Burke has particular expertise counseling clients on the Investment Advisers Act and assists investment advisers, including private equity funds, hedge funds and venture capital funds, on various status questions and ongoing compliance matters.
Transactional
Representative Capital Markets Transactions
Uber Technologies, Inc. in connection with its initial public offering.
Pepco Holdings and its subsidiaries in over $9.6 billion of private and public securities offerings, including the issuance of first mortgage bonds, senior notes, "fading lien" bonds, tax-exempt bonds and common stock.
Eli Lilly in $3.2 billion of various debt offerings and a €2.1 billion Eurobond offering.
Avnet in $900 million of registered debt offerings.
Omeros Corporation in various common stock and pre-funded warrant offerings, including at-the-market facilities.
Salix Pharmaceuticals in a $750.0 million high yield bond offering.
A foreign gaming company in a U.S. offering of ordinary shares.
Various public company issuers, including Bristol-Myers Squibb, Eli Lilly and Pepco Holdings in debt tender offers and related consent solicitations.
XLHealth in a $240 million private placement to a private equity investor and in a preferred stock investment by venture capital investors.
Representative Finance Transactions
Avnet in its $1.25 billion senior unsecured credit facility and $900 million securitization facility.
A pharmaceutical company in its $10 billion unsecured credit facility.
Pepco Holdings and its subsidiaries in their significant finance matters, including syndicated and bilateral credit facilities, commercial paper programs, bridge acquisition facilities, a credit intermediation arrangement and various swap transactions.
SandRidge Energy in its $900 million secured (borrowing base) credit facility.
A private specialty pharmaceutical company in its senior secured credit facility.
Lenders in the refinancing of the senior secured credit facility for the Verizon Center.
Various emerging growth companies in bridge financings and in secured lines of credit.
Advisory
Various public companies in securities reporting and corporate governance matters.
Various public and private companies in derivatives transactions.
Various private funds with the investment adviser registration process, including drafting Form ADVs and compliance policies and procedures.
Various investment advisers with ongoing compliance advice, including on conflicts of interest, fees, custody, pay-to-play, performance advertising and OCIE examination issues.
Counseled a large museum and research organization on outstanding debt instruments.
Washington DC Super Lawyers, Securities & Corporate Finance (2014-2016)
Legal 500 US, Finance - Capital Markets (2013-2014, 2017)

COVID-19: Legal and Business Toolkit
We are helping clients around the world navigate this evolving, complex situation.
View the Toolkit
Education
Cambridge University, LL.M., 2001
Boston University School of Law, J.D., 1998
Magna cum laude
Journal of Science and Technology Law, Managing Editor
Clarkson University, B.S., 1995