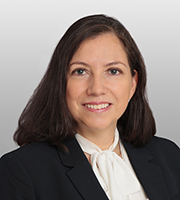 Veronica Yepez advises multinational companies on compliance with anti-corruption regimes around the world, with a particular focus on Latin America. She is also experienced in white-collar criminal defense, complex litigation, and arbitration for large international companies, major financial institutions, and senior executives.
Prior to joining the firm, Ms. Yepez founded a leading compliance practice in Latin America, serving both multinational and regional clients. A U.S.-trained lawyer with experience on-the-ground in Latin America, Ms. Yepez draws upon her deep understanding of local business culture to advise her clients on compliance with the Foreign Corrupt Practices Act (FCPA) and other anti-corruption regimes, and to help them navigate complex cross-border compliance issues under the region's evolving enforcement climate.
Ms. Yepez regularly assists clients with the development, implementation, and testing of their FCPA compliance programs, and leads investigations into allegations of bribery, fraud, and other corporate misconduct. Ms. Yepez has also counseled global financial institutions on the implementation and testing of their anti-money laundering and counter-terrorist financing (AML/CTF) programs.