Your binder contains too many pages, the maximum is 40.
We are unable to add this page to your binder, please try again later.
This page has been added to your binder.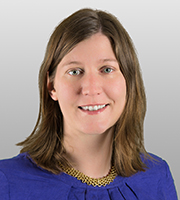 Lindsey Tonsager helps national and multinational clients in a broad range of industries anticipate and effectively evaluate legal and reputational risks under federal and state data privacy and communications laws.
In addition to assisting clients engage strategically with the Federal Trade Commission, Federal Communications Commission, the U.S. Congress, and other federal and state regulators on a proactive basis, she has experience helping clients respond to informal investigations and enforcement actions, including by self-regulatory bodies such as the Digital Advertising Alliance and Children's Advertising Review Unit.
Ms. Tonsager's practice focuses on helping clients launch new products and services that implicate the laws governing the use of endorsements and testimonials in advertising and social media, the collection of personal information from children and students online, behavioral advertising, e-mail marketing, the processing of "big data" in the emerging Internet of Things, spectrum policy, online accessibility, compulsory copyright licensing, telecommunications and new technologies.
Ms. Tonsager also conducts privacy and data security diligence in complex corporate transactions and negotiates agreements with third-party service providers to ensure that robust protections are in place to avoid unauthorized access, use, or disclosure of customer data and other types of confidential information. She regularly assists clients in developing clear privacy disclosures and policies―including website and mobile app disclosures, terms of use, and internal social media and privacy-by-design programs.
Advised numerous website operators and app developers on compliance with the Children's Online Privacy Protection Act (COPPA) and the FTC's COPPA Rule, including representation of website operators and app developers in responding to FTC inquiries under COPPA (with no formal complaints filed in response) and successful resolution of a children's privacy inquiry by the Children's Advertising Review Unit.
Assisted a leading ad tech company in responding to an inquiry under the Digital Advertising Alliance's (DAA) Self-Regulatory Principles on Online Behavioral Advertising; advised numerous clients on their compliance with the DAA Principles and related mobile guidance.
Advised a large online services company in launching a new personalized learning service for K-12 students in compliance with federal and state student privacy laws.
Counseled pharmaceutical companies, retailers, and online services in formulating email marketing campaigns that comply with the Controlling the Assault of Non-Solicited Pornography and Marketing (CAN-SPAM) Act and implementing regulations.
Counseled a major digital media company on the FTC's guidance governing online reviews, endorsements, and native advertising.
Advised technology and media companies regarding the Twenty-First Century Communications and Video Accessibility Act and the FCC's implementing regulations governing advanced communications services and closed captioning of IP-delivered programming.
Assisted a major media company in assessing its data collection, use, and disclosure practices across its family of websites, developing a new privacy-by-design program, and implementing the program through employee training.
Represented the Public Broadcasting Service in negotiations and administrative proceedings relating to the distribution of statutory copyright royalties collected by the U.S. Copyright Office.
Represented television broadcasters in proceedings before the FCC concerning rules for a first-of-its-kind spectrum incentive auction and repacking.
Assisted a non-profit organization in executing its social media strategy, including the development of privacy disclosures, terms of use, and an app development agreement.
Assisted a non-profit organization to develop an intellectual property policy for its online service.
Provided copyright advice to a nonprofit organization concerning its extensive music portfolio.
Advised a leading international anti-corruption organization on newsgathering and prepublication review issues.
Memberships and Affiliations
Federal Communications Bar Association, Executive Committee
International Association of Privacy Professionals
American Bar Association, Member
Office of Commissioner Adelstein, Federal Communications Commission, Law Clerk (Summer 2005)
Legal 500 US, Cyber Law (2016)
Legal 500 US, Technology: Data Protection and Privacy (2016)
Washington DC Super Lawyers, Communications "Rising Star" (2013-2015)
Education
University of Minnesota Law School, J.D., 2007
magna cum laude
University of Minnesota Law Review, Lead Note & Comment Editor
Order of the Coif

University of Pennsylvania, B.A., 2004