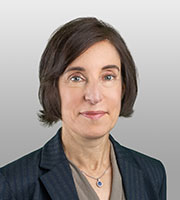 Robyn Polashuk focuses her practice on the licensing and distribution of television networks and programming content across a variety of platforms (including cable and satellite, IPTV, mobile and Internet) and business models (from linear to subscription and transactional video-on-demand, electronic sell-through and interactive applications). As part of this work, she also negotiates retransmission consent agreements on behalf of broadcast stations.
Ms. Polashuk has extensive experience in digital distribution, particularly in the area of "over the top" and "TV Everywhere" models. Ms. Polashuk's practice also extends to due diligence and contractual analysis in connection with media-related corporate transactions and most favored nations review and interpretation.
In this practice, Ms. Polashuk represents leading media groups, film and television studios, sports leagues and emerging networks, in general entertainment, sports and specialized programming genres, as well as both major and emerging technology and Internet companies.
Ms. Polashuk's clients have included Disney and ABC, El Rey Network, Fox Cable Networks, Hulu, Ovation, NFL Network, PBS, Pluto TV, Tennis Channel, TV One, Univision Communications and Viacom. She has negotiated on behalf of content providers with all the traditional television distributors, including AT&T/DIRECTV, Charter Communications, Comcast, DISH Network, Time Warner Cable and Verizon FiOS, as well as the emerging "OTT" distributors, such as PlayStation Vue, Sling TV and Verizon Go90.