Our Website Uses Cookies
We and the third parties that provide content, functionality, or business services on our website may use cookies to collect information about your browsing activities in order to provide you with more relevant content and promotional materials, on and off the website, and help us understand your interests and improve the website.
For more information, please contact us or consult our Privacy Notice.
Your binder contains too many pages, the maximum is 40.
We are unable to add this page to your binder, please try again later.
This page has been added to your binder.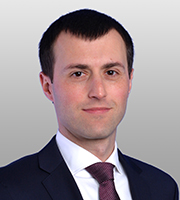 David Pinsky is a partner in the firm's international arbitration and litigation practice groups. He is a member of Covington's Management Committee.
Mr. Pinsky's arbitration practice includes investor-state and commercial disputes, often arising in Russia and Eastern Europe and in the energy sector. Mr. Pinsky has handled ad hoc proceedings under the UNCITRAL Rules, as well as administered proceedings under the ICC, SCC, LCIA, ICDR, and AAA Rules. In U.S. litigation, Mr. Pinsky's practice focuses on complex contractual disputes, as well as on litigation about arbitration.
Mr. Pinsky also maintains an active pro bono practice, representing journalists and other media professionals who seek asylum in the United States. An émigré himself, Mr. Pinsky has won asylum and other forms of immigration relief for clients from Uzbekistan, Iran, and Afghanistan.
Mr. Pinsky previously served as vice chair of Covington's New York litigation practice and as a member of the firm's Public Service Committee.
Counsel for Ukraine's state-owned oil and gas company, Naftogaz, in an investment arbitration against the Russian Federation arising from Russia's occupation of Crimea.
Representation of minority investors in the Yukos Oil Company in an SCC arbitration against the Russian Federation arising from Russia's expropriation of the company.
Counsel for a leading U.S. energy company in a commercial arbitration arising from Russia sanctions risk.
Secured a favorable settlement post-hearing for a multinational oil company in an ICDR arbitration arising out of a shipping agreement for crude oil.
Representation of a public entity in an ad hoc arbitration seeking insurance coverage for property damage and other loss arising from Superstorm Sandy.
Counsel for a major U.S. oil refinery in an ad hoc commercial arbitration against a property insurer, seeking coverage for an $82-million loss under an insurance policy governed by New York law.
Representation of a New York hedge fund in the successful defense of an AAA arbitration against an investment research firm.
Secured a favorable settlement in advance of AAA arbitration for a major media company in a dispute with a contractual partner over web development fees.
Secured a favorable settlement post-trial for the National Football League in a contract dispute with Comcast Cable Communications concerning carriage of the NFL Network.
Representation of the National Football League in insurance coverage litigation arising from lawsuits filed by former NFL players for injuries associated with the long-term effects of concussive and sub-concussive injuries.
Representation of BP Exploration & Production Inc. and member of trial team in civil litigation arising from the Deepwater Horizon incident.
Achieved a favorable settlement in advance of litigation for a leading technology company in connection with a commercial dispute and related national-security compliance matters.
Successful representation of journalists and media professionals from Uzbekistan, Iran, and Afghanistan in applications for asylum to the U.S. Citizenship and Immigration Services and before the Executive Office for Immigration Review.
On behalf of a U.S. nonprofit organization, drafted a report regarding access to counsel for non-citizens in removal proceedings.
Advised the Brennan Center for Justice at the NYU School of Law on the right to counsel in civil cases under the laws of the republics of Georgia and Armenia.
U.S. State Department-sponsored fellow in Moscow; studied press freedom issues in Russia.
Law360, International Arbitration "Rising Star" (2016)
Legal 500 US, International Arbitration (2017, 2014)