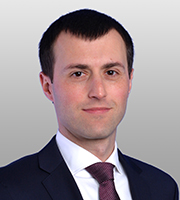 David Pinsky is a partner in the firm's international arbitration and litigation practice groups. Mr. Pinsky's arbitration practice focuses on disputes arising in Russia and Eastern Europe and in the energy sector, in particular. In U.S. litigation, Mr. Pinsky's practice focuses on complex contractual disputes. In addition to his disputes work, Mr. Pinsky counsels companies on how to structure their foreign investments in a manner that affords the strongest remedies in case of adverse government action.
Mr. Pinsky also maintains an active pro bono practice, representing journalists and other media professionals who seek asylum in the United States. An émigré himself, Mr. Pinsky has won asylum and other forms of immigration relief for clients from Uzbekistan, Iran, and Afghanistan.
Mr. Pinsky serves as vice chair of Covington's New York litigation practice. He is also a long-time member of the firm's Public Service Committee.