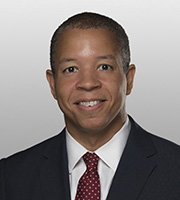 Aaron Lewis practices in Covington's White Collar Defense and Investigations practice group. He has represented clients in sensitive, high-profile internal investigations, government enforcement matters, and complex commercial litigation.
Mr. Lewis returned to Covington in 2015 after six years of service in the Department of Justice, first as Counsel to Attorney General Eric Holder in Washington, and later as a federal prosecutor in Los Angeles. As Counsel, Mr. Lewis advised the Attorney General on a range of enforcement issues, including intellectual property protections, national security matters and civil rights. He worked closely with senior officials at the White House, the Justice Department, and several law enforcement agencies, including the FBI and DHS.
As an Assistant United States Attorney in Los Angeles, most recently in the National Security Section, Mr. Lewis investigated and prosecuted cases involving computer network intrusions, thefts of trade secrets and export control violations. Mr. Lewis also prosecuted cases involving bank fraud, false statements, and mail fraud. An experienced trial and appellate lawyer, Mr. Lewis has tried several cases to verdict, written appellate briefs, and argued before the Ninth Circuit Court of Appeals.