Newman T. Halvorson Jr.
Retired Partner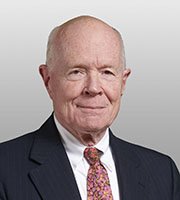 Newman T. "Thor" Halvorson, Jr. is a retired partner. He joined the firm in 1962 and practiced in the areas of federal income tax law with emphasis in the area of corporate reorganizations and acquisitions; federal tax litigation; state tax law; exempt organizations and trade associations law; criminal law; and general litigation.
Among the firm's clients Mr. Halvorson served at different times were the Brookings Institution, the Institute for Advanced Study, the American Council of Learned Societies, the Association for Manufacturing Technology (formerly the National Machine Tool Builders Association), Penn Central Transportation Company, Marathon Oil Company, Phillips Petroleum Company, International Business Machines Corporation, United Technologies Corporation, E.I. du Pont de Nemours & Co., the Irvine Company, the James Irvine Foundation, Lutheran Brotherhood, the National Trust for Historic Preservation, and Norfolk Southern Company.
In mid-career, Mr. Halvorson served as an Assistant United States Attorney for the District of Columbia in the civil, grand jury, and felony trial sections from 1983 to 1985, and as an Associate Independent Counsel under the Ethics in Government Act from 1987 to 1990.
Mr. Halvorson is currently serving as a trustee and member of the governance and finance committees of the American University of Iraq, Sulaimani, and a director and president of the American University of Iraq Foundation. He is also a trustee and chairman of the board of Vesterheim, the National Norwegian-American Museum and Heritage Center (Decorah, Iowa). He is a former trustee and chairman of the board of The Potomac School; former director and chairman of the board, and current member of the investment committee of the Eugene and Agnes E. Meyer Foundation; former trustee and chairman of the board of the Historical Society of Washington, DC; former president of the Cleveland Park Historical Society; and former senior warden and member of the vestry of Christ Church, Georgetown.
Mr. Halvorson served in the U.S. Marine Corps Reserve in 1961-1967. He is a widower with two children and four grandchildren.