Our Website Uses Cookies
We and the third parties that provide content, functionality, or business services on our website may use cookies to collect information about your browsing activities in order to provide you with more relevant content and promotional materials, on and off the website, and help us understand your interests and improve the website.
For more information, please contact us or consult our Privacy Notice.
Your binder contains too many pages, the maximum is 40.
We are unable to add this page to your binder, please try again later.
This page has been added to your binder.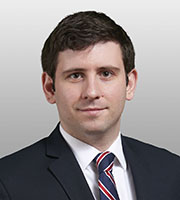 Thomas Brugato is an associate in the firm's Washington, DC office. His practice focuses on environmental matters as well as civil and administrative litigation. He has experience advising clients on a wide variety of environmental issues, including under the Clean Air Act, Clean Water Act, RCRA, CERCLA, and FIFRA.
Represented the State of Minnesota, including as a member of the trial team, in natural resource damages litigation resulting in a $850 million settlement. This is believed to be the largest non-oil-spill natural resource damages recovery ever obtained.
Member of the penalty phase trial team that represented BP in civil litigation arising from the Deepwater Horizon incident in the Gulf of Mexico.
Represented owners of a series of wind farms in California in securing a $206 million judgment for the Government's failure to pay adequate Section 1603 grants to the wind farm owners. Alta Wind I Owner Lessor C v. United States, 128 Fed. Cl. 702 (2016).
Representing a petroleum refinery in obtaining a New Source Review permit under the Clean Air Act for a refinery expansion.
Defending a petroleum refiner in a tort claim relating to operations of oil transportation and storage facilities.
Representing a mining company regarding natural resource damages claims at a former mining site.
Advising a metals company in connection with legacy site contamination issues, including under CERCLA and state law.
Advising on the regulation of products containing antimicrobial ingredients under FIFRA.
Advising a renewable energy developer on potential challenges to a Clean Water Act § 404 permit.
Representing a non-profit clean water advocacy organization in negotiations with the Government and litigation relating to a sewer system consent decree governed by the Clean Water Act.
Representing a plaintiff in a § 1983 action against police and prosecutors in Washington Parish, Louisiana arising out of wrongful conviction and Brady violations.