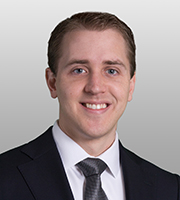 Ryan Burnette advises clients on a range of issues related to government contracting. Mr. Burnette has particular experience with helping companies navigate mergers and acquisitions, FAR and DFARS compliance issues, public policy matters, government investigations, and issues involving government cost accounting and the Cost Accounting Standards.
Prior to joining Covington, Mr. Burnette served in the Office of Federal Procurement Policy in the Executive Office of the President, where he worked on government-wide contracting regulations and administrative actions affecting more than $400 billion dollars' worth of goods and services each year.
While in government, Mr. Burnette helped develop and implement several contracting-related Executive Orders, and worked with White House and agency officials on matters affecting contractor disclosure and agency responsibility determinations, labor and employment issues, IT contracting, commercial item acquisitions, performance contracting, GSA Schedules and interagency acquisitions, competition requirements, and suspension and debarment, among others. Additionally, in the wake of significant incidents affecting the program, Mr. Burnette was selected to serve on a core team that led reform of major processes affecting all federal background investigations, directly resulting in the creation of the National Background Investigations Bureau.