Our Website Uses Cookies
We and the third parties that provide content, functionality, or business services on our website may use cookies to collect information about your browsing activities in order to provide you with more relevant content and promotional materials, on and off the website, and help us understand your interests and improve the website.
For more information, please contact us or consult our Privacy Notice.
Your binder contains too many pages, the maximum is 40.
We are unable to add this page to your binder, please try again later.
This page has been added to your binder.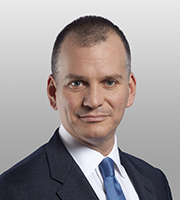 Jack Bodner is a partner in the firm's Mergers and Acquisitions group. He has more than 20 years of experience in advising acquirors, targets, investors, boards of directors, special committees, and investment banks in domestic and cross-border negotiated and unsolicited mergers and acquisitions transactions.
Mr. Bodner's practice also includes counseling clients on corporate and governance related matters, including compliance and disclosure issues, shareholder rights plans and proxy contests, and other defense and takeover measures. Mr. Bodner received his J.D. from New York University School of Law and his B.A., magna cum laude, from New York University.
Astellas Pharma in its $384 million acquisition of Ocata Therapeutics (Nasdaq: OCAT), a biotechnology company specializing in the development of stem cell-based treatments in regenerative medicine.
Oplink Communications, a publicly listed manufacturer and seller of optical components, in its $445 million sale to Koch Industries.
Famy Care Limited in the $750 million sale of its women's health business to Mylan Laboratories Limited.
Lightbridge Communications, one-of-the world's largest independent global providers of network engineering services to the telecommunications industry, in its $240 million sale to Tech Mahindra Ltd.
Illumina, Inc. (NASDAQ: ILMN):

in its up to $450 million acquisition of Verinata Health, Inc.;
in its acquisition of NextBio; and
in its creation of a joint venture with Warburg Pincus and Sutter Hill Ventures focused on accelerating consumer adoption of genomics.

The Walt Disney Company (NYSE: DIS):

in its $5.3 billion acquisition of Fox Family Worldwide, Inc.;
in its acquisition of India's UTV Software Communications Limited; and
in its acquisition of assets of The Jim Henson Company, Inc. (Muppets and Bear in the Big Blue House).
Financial Federal Corporation, a publicly listed financial services company, in its $738 merger with People's United Financial, Inc.
OptiSolar Inc. in the $400 million sale of its project development business to First Solar, Inc.
B. Riley Financial, Inc. in its acquisition of MK Capital Advisors, LLC.
Gannett Broadcasting in its formation and broadcasting of the Justice Network, a digital multicast channel devoted to law enforcement-related programming.
Financial advisor to BioMarin in its up to $840 million acquisition of Prosensa Holding N.V.
Asuragen, Inc. in the sale of its miRInform® Thyroid and Pancreas test assets to Interpace Diagnostics, a subsidiary of PDI, Inc.
Assurant (NYSE: AIZ) in its acquisition of Mobile Defense, Inc., a technology company focused on mobile device diagnostics and data processing for user assistance and predictive forecasting.
Broadridge Financial Solutions (NYSE: BR) in its acquisition of technology assets of INVeSHARE to develop blockchain applications for Broadridge's proxy business.
Financial advisor to Durata Therapeutics in its $675 million acquisition by Actavis.
Financial advisor to The Williams Companies in its $5.995 billion acquisition from Global Infrastructure Partners of a 50% interest in the general partner of Access Midstream Partner, L.P. and an approximate 25% interest in ACMP's limited partnership units.
Faros Trading in the sale of a controlling interest to FXCM Inc.
A U.S.-based medical devices company in its acquisition and related long-term license of a spinal device from a privately-held medical devices company, involving an upfront payment of cash together with a series of milestone payments.
Trustmark Corporation in its sale of eight mutual fund portfolios of the Performance Funds Trust to Federated Investors Inc.
Gleacher & Company, Inc. in the sale of substantially all of the assets of its ClearPoint subsidiary to Homeward Residential, Inc., a wholly owned subsidiary of Ocwen Financial.
Saddle Gold Inc. in its acquisition by Premier Gold Mines.
UBS Securities LLC on the sale of a portfolio of interests in selected private equity funds to an investment firm.
King Pharmaceuticals in its $3.6 billion merger with Pfizer.
Autogrill S.p.A. (AGL.MI) in the spin-off and sale of the U.S. airport retail concession business from HMSHost Corporation to World Duty Free Group.
Financial Advisor to IMS Health Incorporated in its $5.2 billion going private transaction.
Mainfreight Limited in its acquisition of AMEX-listed Target Logistics, Inc.
Financial advisor to the Affiliated Transaction Committee of Coca-Cola Enterprises on the sale of its North American bottling operations to The Coca-Cola Company and its acquisition of Coca-Cola's Norway and Sweden bottling businesses in a transaction valued at approximately $13 billion.
Financial advisor to Chrysler LLC in connection with its restructuring and sale to a consortium controlled by Fiat.
Financial advisor to Applera Corporation in connection with the $6.7 billion sale of Applera's Applied Biosystems Group to Invitrogen Corp.
Lottomatica S.p.A. in its $4.8 billion acquisition of GTECH Holdings Corporation, a publicly listed lottery and gaming technology company.
Financial advisor to Cougar Biotechnology, Inc. in its $970 million sale to Johnson & Johnson.
Financial advisor to Getinge AB in its $865 million acquisition of Datascope Corp.
Financial advisor to Celgene Corporation in its $2.9 billion acquisition of Pharmion Corporation.
Van Wagner in connection with Clear Channel's acquisition of Van Wagner's European billboard business.
Fiber Composites in its acquisition of Louisiana-Pacific Corporation's WeatherBest decking and railing business, and manufacturing and distribution facility in Meridian, Idaho.
Financial advisor to the Special Committee of the Board of Directors of Interactive Data Corporation in its $3.4 billion acquisition by investment funds managed by Silver Lake Partners and Warburg Pincus.
Financial advisor to the Special Committee of Sallie Mae in the announced $25 billion sale to private equity firms, JC Flowers and Friedman, Fleischer & Lowe who combined for the acquisition with JPMorgan Chase and Bank of America.
Financial advisor to PerkinElmer, Inc. in its $300 million acquisition of ViaCell, Inc..
Metropolitan Intercollegiate Basketball Association in connection with the NCAA's acquisition of the NIT.
Financial advisor to Teva Pharmaceutical Industries Ltd. in connection with Teva's $7.4 billion acquisition of Ivax Corporation.
Intergen (North America), Inc. in connection with Harbert Distressed Investment Master Fund, Ltd.'s acquisition of the Mayflower, Cottonwood & Redbud Projects.
Financial advisor to Conoco Phillips in its$3.0 billion acquisition of an interest in OAO Lukoil.
LifePoint Hospitals, Inc. in connection with LifePoint's $1.7 billion acquisition of Province Healthcare Company.
Burns, Philp & Company in the $1.35 billion sale of its yeast and bakery ingredient lines and Tone Brothers herbs and spices line to Associated British Food.
Special Committee of the Board of Directors of Covansys Corporation in connection with Fidelity Information Services Inc.'s $356 million acquisition of an interest in Covansys.
Special Committee of the Board of Directors of barnesandnoble.com inc. in its $513 million sale to Barnes & Noble, Inc.
Financial advisors to Sanofi-Synthlabo S.A. in connection with Sanofi's $77.8 billion acquisition of Aventis.
Zimmer Holdings, Inc. in connection with its unsolicited $3.5 billion acquisition of Centerpulse AG and InCentive AG.
Financial advisors to The News Corporation Ltd. in connection with News Corp.'s $6.6 billion investment in Hughes Electronics.
Triad Hospitals, Inc. in connection with its $2.2 billion acquisition of Quorum Health Group, Inc.
Novartis Pharma AG in connection with its $1.6 billion acquisition of the pharmaceutical products Famvir® and Denavir® from SmithKline Beecham plc.
Chambers USA, Corporate/M&A (2016-2017)
Legal 500 US, Energy: Renewable/Alternative (2016); M&A: Commercial Deals and Contracts (2016); M&A: Large Deals (2012-2014); Energy: Regulatory (2014)
New York Super Lawyers, Mergers & Acquisitions (2009-2014)
Education
New York University School of Law, J.D.
New York University, B.A.
magna cum laude
Phi Beta Kappa