Our Website Uses Cookies
We and the third parties that provide content, functionality, or business services on our website may use cookies to collect information about your browsing activities in order to provide you with more relevant content and promotional materials, on and off the website, and help us understand your interests and improve the website.
For more information, please contact us or consult our Privacy Notice.
Your binder contains too many pages, the maximum is 40.
We are unable to add this page to your binder, please try again later.
This page has been added to your binder.
Christopher Y. L. Yeung
Partner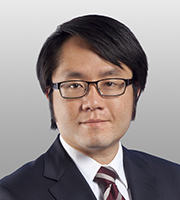 A recipient of the New York Law Journal's 2018 "Rising Stars" award for being one of "the region's most promising lawyers who are no older than 40," Christopher Yeung is a litigator with significant trial experience. He represents clients in a wide range of high-stakes and complex litigation, including contractual disputes, corporate governance- and business-related torts, securities actions, trade secret disputes, trade control cases, and white collar defense and investigations.
Mr. Yeung is one of the firm's hiring partners and is co-chair of the summer associate program in New York.
Won a complete defense victory for one of the world's largest steel companies in an International Trade Commission investigation involving allegations of trade secret misappropriation, unfair imports of falsely designated goods, and price fixing. The false designation and price fixing claims were terminated before trial, and the trade secret misappropriation claim was voluntarily withdrawn.
Won a complete defense verdict for a McKesson Corporation subsidiary in a nearly half a billion dollar trade secret trial. After eight years of litigation between the parties, Covington was hired to try the case months before trial.
Won a complete defense verdict for Salix Pharmaceuticals following two-week jury trial in lawsuit brought by collaboration partner Napo Pharmaceuticals relating to Fulyzaq (crofelemer), a first-in-class gastrointestinal drug. Napo had sought over $260 million in damages and the right to terminate the parties' license agreement. As a result of Covington's efforts on summary judgment and at trial, Napo recovered nothing. See Law360 article "Salix Wins Jury Verdict In Breach Suit Over Napo Drug" (2/25/2014).
Won substantial judgments in favor of New Media Holding and its sister-company, New Media Distribution, following a five-month trial in a multi-national corporate control dispute over the ownership of the TVi Channel, a Ukrainian television network. The judgments were affirmed on appeal.
Representation of a subsidiary of a Fortune 10 company in a multi-national export controls-related internal investigation. The matter was resolved successfully without any monetary penalties or referral for criminal or administrative prosecution.
Representation of an individual defendant in a criminal tax fraud prosecution. After pleading guilty, the client received a sentence that did not include any term of imprisonment.
Representation of the co-founder of a private equity firm in obtaining a settlement of his lawsuit and derivative action in Delaware Chancery Court. The action was settled favorably on the first day of trial after accelerated discovery.
Representation of a major record label in royalty disputes with artists.
Representation of a sports network in a contractual dispute with a cable provider.
Representation of a senior executive in a securities fraud class action suit in federal court.
Representation of a multi-national corporation in an internal investigation of a former employee's suspected embezzlement of company funds.
Successfully briefed and argued an appeal on behalf of an abused wife to defeat a petition filed against her in connection with a custody battle.
Representations of various plaintiffs in lawsuits alleging constitutional torts, including false arrest, malicious prosecution, and use of excessive force.
Advised an environmental not-for-profit in connection with its incorporation and application for tax-exempt status.
U.S. Attorney's Office, Western District of Virginia, Intern (2006-2007)
U.S. Attorney's Office, Central District of California, Civil Division, Summer Extern (2005)
Teach For America, English Teacher (2002-2004)

New York Law Journal, "Rising Star" (2018)
New York Super Lawyers, Business Litigation, Criminal Defense: White Collar, Entertainment & Sports "Rising Star" (2013, 2014, 2015, 2016, 2017, 2018)
Education
University of Virginia School of Law, J.D., 2007
Virginia Law Review, Technology Development Editor
Bracewell & Guiliani Best Brief Award
Bracewell & Guiliani Oral Advocacy Award
University of Virginia, B.A., 2002