Your binder contains too many pages, the maximum is 40.
We are unable to add this page to your binder, please try again later.
This page has been added to your binder.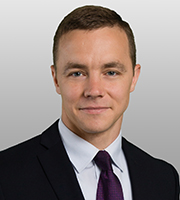 Mike Wagner represents government contractors in high-stakes enforcement matters and advises clients on complex regulatory issues impacting the contracting community.
Mr. Wagner works closely with contractors across a range of industries to achieve the efficient resolution of regulatory enforcement actions and white collar criminal investigations. His expertise includes preparing for and conducting witness interviews, managing complex e-discovery projects, and developing and executing legal strategies. He also conducts internal investigations of potential compliance issues and advises clients as to FAR mandatory disclosure requirements and suspension and debarment risk.
In his advisory work, Mr. Wagner counsels government contractors on regulatory issues arising at all stages of the public procurement process, and he has substantial experience coordinating due diligence reviews and negotiating transaction documents in connection with contractor M&A projects.
Mr. Wagner serves as an adjunct professor at the George Washington University Law School.
Bribery and Gratuity Investigation - Represented leading government contractor in fast-moving internal investigation, with parallel criminal proceedings, involving federal bribery and gratuity laws, the Procurement Integrity Act, and Organizational Conflicts of Interest regulations; achieved favorable resolution of investigation with DOJ and agency Suspension & Debarment Official (SDO).
Suspension & Debarment Challenge - Successfully challenged federal agency's suspension and proposed debarment of construction contractor, resulting in termination of suspension and complete restoration of eligibility within one week of filing submission.
NTSB Investigation - Lead associate in representation of Asiana Airlines in investigation by National Transportation Safety Board into crash of Asiana Flight 214 at San Francisco International Airport on July 6, 2013; prepared witnesses for public investigative hearing, drafted Asiana submission to NTSB, and advised client on media relations and crisis management issues.
Inverted Domestic Corporations - Counseled several large contractors on rules governing federal contracting with "inverted domestic corporations," including advice on structuring business and operations to maximize contracting opportunities and engagement with relevant agency officials.
State Department Bid Protest - Represented Fortune 100 financial services firm in successful agency-level protest of Department of State's award decision, resulting in new FPRs and ultimate contract award to our client.
Contractor M&A Project - Coordinated regulatory due diligence and negotiated variety of transactional documents in connection with $175MM acquisition of major government contractor's business unit.
Contractor Termination & Claim - Represented a large construction company during its successful resolution of multiple contract claims and terminations related to construction work in Afghanistan for the U.S. Army Corps of Engineers, resulting in $12.8MM settlement for client.
Securities Fraud Investigation - Successfully represented CEO of publicly-traded company in SEC investigation arising out of earnings restatement, resulting in no charges for client.
MAS Contract Counseling - Guided large technology reseller through revision of pricing practices under GSA schedule contract, including overhauling its CSP-1 disclosure and persuading GSA to authorize alternative pricing model.
Successfully represented NGO providing public health services in the developing world in commercial dispute with credit card payment processing company.
Taught contracts law prep course geared towards disadvantaged students entering law school.