Our Website Uses Cookies
We and the third parties that provide content, functionality, or business services on our website may use cookies to collect information about your browsing activities in order to provide you with more relevant content and promotional materials, on and off the website, and help us understand your interests and improve the website.
For more information, please contact us or consult our Privacy Notice.
Your binder contains too many pages, the maximum is 40.
We are unable to add this page to your binder, please try again later.
This page has been added to your binder.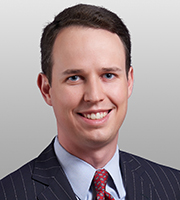 Jonathan Wakely advises clients on a range of significant international trade, national security, and public policy matters. Mr. Wakely joined the firm after serving as a political analyst with the Central Intelligence Agency, where he provided strategic analysis to the President and other senior policymakers.
Drawing on his government experience, Mr. Wakely represents clients worldwide seeking national security approval for foreign investments before the Committee on Foreign Investment in the United States (CFIUS) and clients seeking to mitigate foreign ownership, control, or influence (FOCI) under national industrial security regulations. His experience includes negotiating and advising companies on compliance with several of the most significant, complex and sensitive national security agreements with the U.S. government in recent years. Mr. Wakely also advises companies on U.S. economic sanctions and export control regulations administered by the Treasury Department's Office of Foreign Assets Control (OFAC), State Department's Directorate of Defense Trade Controls (DDTC), and the Commerce Department's Bureau of Industry and Security (BIS).
In the public policy area, Mr. Wakely advises clients on matters involving international trade, cross-border investment, and national security. He has represented private companies and sovereign states before Congress and the executive branch, including by designing and executing government relations campaigns to achieve policy, regulatory, and legislative goals.
CFIUS and National Security
Lenovo Group Limited - Acquisition of IBM's x86 server division for $2.1 billion.
Nexen Inc. - $15.1 billion acquisition by CNOOC Ltd.
BAE Systems Inc. - Multiple acquisitions.
Borealis Infrastructure Management - Multiple acquisitions in the energy sector.
Abu Dhabi National Energy Company PJSC ("TAQA") - Successful acquisition in the energy sector.
Check Point Software Technologies - Multiple acquisitions.
Advised a global oil and gas company on compliance with U.S. export control and sanctions regulations
Conducted an internal investigation of suspected violations of U.S. export control laws for a multinational technology company.
Trade and Public Policy

Secured the reinstatement of a respected professor's H-1B visa improperly revoked on national security grounds.
Advised a security-focused technology company on growing U.S. government business.
Represented a foreign embassy in a campaign to secure professional visa legislation as part of the implementation of a free trade agreement.
Advised a major U.S. airline on developing and executing a government relations campaign to address issues related to free and fair competition with foreign airlines.
Representing American investors in Yukos Oil Company seeking compensation for the expropriation of approximately $12 billion in assets by the Russian Federation.
Advised a multinational oil & gas company on disputes with foreign government agencies arising from an investment in Central Asia.
Represented the Brady Center to Prevent Gun Violence in a successful constitutional challenge to the Nelson, Georgia "Family Protection Ordinance," which required residents to keep and maintain a firearm.
Successfully represented an Iraq War veteran in obtaining Combat-Related Service pay.
Central Intelligence Agency, Political Analyst (2006-2012)