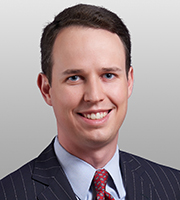 Jonathan Wakely advises clients on a range of significant international trade, national security, and public policy matters. Mr. Wakely joined the firm after serving as a political analyst with the Central Intelligence Agency, where he provided strategic analysis to the President and other senior policymakers.
Drawing on his government experience, Mr. Wakely represents clients worldwide seeking national security approval for foreign investments before the Committee on Foreign Investment in the United States (CFIUS) and clients seeking to mitigate foreign ownership, control, or influence (FOCI) under national industrial security regulations. His experience includes negotiating and advising companies on compliance with several of the most significant, complex and sensitive national security agreements with the U.S. government in recent years. Mr. Wakely also advises companies on U.S. economic sanctions and export control regulations administered by the Treasury Department's Office of Foreign Assets Control (OFAC), State Department's Directorate of Defense Trade Controls (DDTC), and the Commerce Department's Bureau of Industry and Security (BIS).
In the public policy area, Mr. Wakely advises clients on matters involving international trade, cross-border investment, and national security. He has represented private companies and sovereign states before Congress and the executive branch, including by designing and executing government relations campaigns to achieve policy, regulatory, and legislative goals.