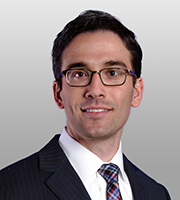 David Wildman joined the firm in 2015. He represents and counsels clients engaged in complex transactions involving technology, intellectual property and data. In this role, Mr. Wildman regularly provides advice relating to data protection and commercialization, the development and exploitation of "big data" analytical tools and predictive models, and cloud services agreements. Mr. Wildman represents clients in a wide array of industries, including health technology (or "eHealth"), travel, defense, sports, media, and finance.
In addition, Mr. Wildman is a registered Patent Attorney with over seven years of experience advising clients on various intellectual property issues. He counsels clients on all aspects of patent practice, including the worldwide procurement, defense, licensing, and enforcement of patent rights. Mr. Wildman also has extensive experience in the management and strategic development of patent portfolios in a variety of technical disciplines.
Prior to joining the firm, Mr. Wildman worked at a leading law firm prosecuting patent applications in the U.S. and abroad, representing clients in post-grant proceedings at the United States Patent & Trademark Office (USPTO), conducting due diligence analyses, and rendering opinions on patent validity, infringement, and freedom-to-operate. Mr. Wildman holds a degree in Electrical Engineering from Columbia University and obtained his J.D. from New York University School of Law.