Your binder contains too many pages, the maximum is 40.
We are unable to add this page to your binder, please try again later.
This page has been added to your binder.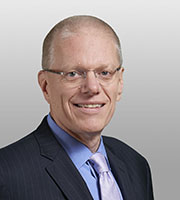 Ralph Voltmer, Jr., a partner in the firm's corporate group, advises both US and foreign clients in cross-border transactions such as mergers & acquisitions, joint ventures, strategic alliances and financings (whether debt or equity). Mr. Voltmer has represented clients on a variety of transactions in Europe, Latin America, Asia, and heads the firm's India Practice.
Representing Famy Care Limited in the $750 million sale of its women's health business to Mylan Laboratories Limited.
Representing Mindtree Ltd. in connection with its acquisitions of Discoverture Solutions and Keste LLC.
Representing Football Sports Development on the formation of the Indian Super League (ISL).
Representing Reliance Industries Limited in connection with its $30 million investment in Studio 8, LLC.
Representing Reliance Jio Infocomm Limited in connection with the formation of the Open Mobile Device Foundation.
Representing Reliance Industries in a series of joint ventures with D. E. Shaw to provide non-banking financial services in India.
Representing the Walt Disney Company in its acquisition of India's UTV Software Communications Limited, an integrated media and entertainment company involved in broadcasting, motion pictures, games content, interactive and television content.
Representing Magticom Ltd., the largest telecommunications company in the Republic of Georgia, in connection with the development of the first direct-to-home satellite programming service in Georgia, which included agreements with SES Astra, Harmonic and Deltacom for the launch of the DTH service.
Representing AXIS Bank Limited, India's third largest bank, as lead arranger for $180 million in project finance supporting a pharmaceutical manufacturing facility in Gujarat and a pharmaceutical research and development center in Mumbai.
Representing ICICI Bank Limited, India's second largest bank, as the lender in a $1.7 billion structured financing for an affiliate of an India-based multinational company.
Representing ICICI Bank Limited and Standard Chartered Bank, as joint lead arrangers, in $925 million in syndicated project financings in India.
Representing Reliance Life Sciences in a $35 million investment in an MPM BioVentures Fund.
Representing HIT Entertainment in the formation of the "Jim Jam" joint venture with Chellomedia, an affiliate of Liberty Global.
Representing National Geographic in the formation of NGC Network International LLC, a joint venture among NGT, Inc., a subsidiary of National Geographic Society, National Broadcasting Company and FOX Entertainment Group, Inc., for the international development and operation of the National Geographic Channel cable network; and the formation of NGC Network US, LLC, a joint venture between NGT, Inc. and Fox Entertainment Group, for the development and operation of the National Geographic Channel in the US.
Representing PBS in connection with its participation in the formation of a cable channel network for pre-school aged children, PBS Kids Sprout, a joint venture among PBS, Hit Entertainment Plc, Sesame Workshop and Comcast Corporation -- a venture formation transaction that involved, among other things, the licensing of programming, the commitment of equity funding, and carriage on cable systems.
Representing Scholastic Entertainment in the formation of a joint venture among ION Media Networks, Inc., NBC Universal, Inc., and Classic Entertainment to create Qubo, a children's linear program service.
Representing the Special Committee of Moscow Cablecom Corp. in a going private transaction with Renova Media Enterprises Ltd., the largest single shareholder of MOCC.
Serving as special counsel to the Supervisory Board of Primacom AG, a publicly traded cable operator in Germany, in connection with a proposed restructuring with Primacom's senior lenders.
Representing Reliance Infocomm Limited in connection with its $750 million financing from the Export-Import Bank of the United States and Export Development Canada, the proceeds of which were used to assist Reliance Infocomm in building a state of the art telecommunications infrastructure for India.
Representing Telemobil S.A., a Romanian wireless telecommunications services provider, operating under the trade name Zapp®, in arranging $40 million in senior loans and $54 million in sponsored subordinated loans. Bank Austria Creditanstalt AG and Raiffeisen Bank S.A. provided the senior loans, and the Export-Import Bank of the United States and Black Sea Trade and Development Bank provided the subordinated loans. Leading global telecommunications technology provider, QUALCOMM Incorporated, also represented by Mr. Voltmer, and Saudi Arabian-based Saudi Oger Ltd. sponsored the subordinated loans.
Representing the borrower in connection with a €357 million multi-currency, secured facility made available by Fortis Bank S.A./N.V., the collateral for which was located in the United States, Canada, England, Germany, and Singapore.
Representing QUALCOMM in the purchase of assets of a UK-based 450 MHz handset design and manufacturing company, including the related intellectual property.
Representing a US-based investor in its $200 million investment in connection with a $436 million private equity financing by a Cayman Island start-up venture formed to acquire 450 MHz telecommunications licenses in Europe and to build and operate next generation digital wireless telecommunications systems on this portion of the radio spectrum.
Advising the purchaser in the $85 million acquisition of Telemobil S.A., the Romania 450 MHz wireless telecommunications operator.
Representing a US public utility in connection with its acquisition of El Salvador Telecom S.A. de C.V.
Representing Global Initiative on Sharing Influenza Data (GISAID), a non-profit organization formed to foster the international sharing of avian influenza isolates and related data.
Chambers USA, Telecom, Broadcast & Satellite (2008-2015)
Chambers Global, Corporate/M&A (India) and Corporate/M&A (US) (2009-2017)
Chambers Asia-Pacific, India - Corporate/M&A (International Firms) (2010-2018)
Legal 500 Asia-Pacific, India - Foreign Firms (2008-2012)
Recognized in Legal 500 for Intellectual Property - Trade Secrets (2017) and Telecoms - Finance: Advice to Telecommunications and Satellite Ventures - US (2007)