Our Website Uses Cookies
We and the third parties that provide content, functionality, or business services on our website may use cookies to collect information about your browsing activities in order to provide you with more relevant content and promotional materials, on and off the website, and help us understand your interests and improve the website.
For more information, please contact us or consult our Privacy Notice.
Your binder contains too many pages, the maximum is 40.
We are unable to add this page to your binder, please try again later.
This page has been added to your binder.
Philipp Tamussino
Partner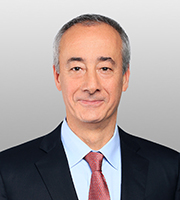 Philipp Tamussino, U.S. attorney at law, represents clients in a broad range of corporate and finance transactions, including mergers and acquisitions, bank financings, private equity transactions, and strategic partnerships and joint ventures, often in cross-border settings. He also has advised asset managers, investors and other clients in a variety of structured finance, alternative investment and financial derivatives transactions. He has particular experience in representing life sciences, investment management, and technology clients.
SK Holdings on debt and equity financing in connection with its acquisition of a minority interest in Eureka Midstream Holdings.
Johnson & Johnson in its acquisition of Lumend, Inc., in its buyout of Merck's interests in their European OTC drug joint venture, and in its purchase of the Viactiv® product line from Bristol-Myers Squibb.
Public Pension Capital in its investment in KVK Technologies and strategic partnership with Kramer Van Kirk Credit Strategies.
Ascom Holding AG in its acquisition of GE Healthcare's nurse call medical device business.
Mederi AG in its sale to BelHealth Investment Partners.
Resource America in its acquisition of ACA's U.S. CLO management business, in the auction sale of its European loan management operation, in its credit management joint venture with CVC Capital Partners and in the formation of its Pelium Capital Partners Fund.
ClaimTrust in its sale to Craneware plc.
Asset managers in numerous cash and synthetic CDO and CLO transactions.
Resource Capital Corp in its acquisition of Churchhill Pacific Asset Management.
US and international investors in a variety of bespoke CDO, variable rate note, equity-linked note, credit-linked note, and similar transactions.
NYFIX, Inc. in a private equity investment by Warburg Pincus.
The Segal Group in its acquisitions of RogersCasey, Moroni Fantin, Waters Consulting, Irwin Tepper Associates and Sibson Consulting.
Memberships and Affiliations
American Bar Association, Section on Business Law
International Bar Association, Corporate Law Section
Resident in Covington's Brussels (1991-1994 and 1998-2001) and New York (2001-2018) office.
Practices
Education
New York University School of Law, LL.M., 1990
Karl-Franzens Universität, Dr. jur., 1989
Karl-Franzens Universität, Mag. jur., 1987