Your binder contains too many pages, the maximum is 40.
We are unable to add this page to your binder, please try again later.
This page has been added to your binder.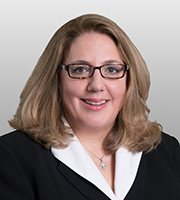 Anne Termine is a member of the firm's futures and derivatives and white collar defense and investigations practices.
Prior to joining Covington, Ms. Termine was a Chief Trial Attorney in the U.S. Commodity Futures Trading Commission's (CFTC) Division of Enforcement, where she was responsible for investigating and prosecuting alleged violations of federal laws dealing with commodities, futures, options, swaps, and other derivatives. In this role, Ms. Termine designed and led the CFTC's landmark enforcement program involving the manipulation and false reporting of LIBOR, Euribor and TIBOR - critical, international benchmark interest rates. She spearheaded negotiations that resulted in settlements with nine international financial institutions, imposing penalties totaling over $2.8 billion. In managing this massive, global investigation, Ms. Termine was instrumental in developing relationships and coordinating with diverse foreign regulatory and law enforcement agencies throughout Europe and Asia, as well as with divisions of the United States Department of Justice and a coalition of over 40 State Attorneys General.
Ms. Termine has also led investigations and successful litigations in matters involving the attempted manipulation and false reporting of natural gas prices, multi-million dollar Ponzi schemes and forex fraud cases, and the illegal offer and sale of commodity options by an internet event market, among others.
Prior to joining the CFTC, Ms. Termine was a Senior Assistant District Attorney in the Orleans Parish District Attorney's Office where she tried more than 140 jury and non-jury trials, including several first and second degree murder cases.
U.S. Commodity Futures Trading Commission, Chief Trial Attorney, Division of Enforcement
Orleans Parish District Attorney's Office, Senior Assistant District Attorney
Recipient of Chairman's Award for Excellence, CFTC's highest award