Your binder contains too many pages, the maximum is 40.
We are unable to add this page to your binder, please try again later.
This page has been added to your binder.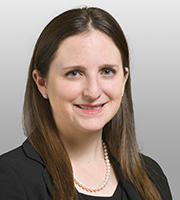 As a member of the firm's anti-corruption and white collar practice groups, Jennifer Saperstein regularly advises clients on compliance issues arising under anti-corruption laws, including the Foreign Corrupt Practices Act ("FCPA"). She has conducted more than a dozen risk assessments and compliance program assessments, and has developed anti-corruption compliance programs for clients across industries. Ms. Saperstein regularly assists companies with anti-corruption due diligence in connection with acquisitions, asset purchases, and joint ventures.
Ms. Saperstein also helps corporations with efficient resolution of internal and government investigations into allegations of fraud and corruption.
Anti-Corruption and Cross-Disciplinary Compliance
Advises international companies and associations in creating and implementing tailored anti-corruption policies and procedures.
Performs anti-corruption risk assessments for companies and associations in a diverse range of industries, including life sciences, consumer products, personal care, technology, manufacturing, logistics, and financial services.
Advises multinational companies on building compliance functions, implementing integrated compliance programs, and facilitating compliance monitoring through use of data analytics.
Provides customized anti-corruption training to legal, internal audit, sales, and other departments, including at Fortune 500 companies.

Advises companies on third party due diligence processes, designing criteria and procedures for diligence, assisting with selection of outside diligence vendors, and providing advice on specific vendors.
Provides ongoing counseling to dozens of clients on anti-corruption issues.
Conducted anti-corruption due diligence for U.S.-based life sciences company's $2 billion acquisition of a US-based life sciences company with global sales.
Served as anti-corruption counsel for private equity firm during its acquisition and later sale of a government contractor.
FCPA, Anti-Kickback Act, and False Claims Act Investigations
Obtained declination from DOJ for a major company in an Anti-Kickback Act investigation by the DOJ.
Conducted internal investigations for Fortune 50 companies, both in the U.S. and abroad, in connection with potential violations of the FCPA.
Counsel to a major multinational company in a DOJ investigation into potential violation of the False Claims Act.
Civil Litigation
Representation of a major record company in contractual disputes with artists over royalty on new forms of music distribution.
Representation of policyholders in coverage disputes with insurers.
Represented plaintiff in § 1983 action against police and prosecutors in Jefferson Parish, Louisiana arising out of wrongful conviction and alleged Brady violations.
Successfully represented defendant charged with multiple homicides in state court proceedings.