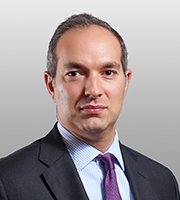 Daniel Suleiman represents institutions and individuals in high-stakes white collar and litigation matters. He specializes in criminal and civil government investigations and litigation, internal investigations, U.S. Foreign Corrupt Practices Act investigations, Congressional investigations, and other matters involving significant criminal and civil risk.
From 2010-2013, Mr. Suleiman served as a senior official in the U.S. Department of Justice's Criminal Division, including as Deputy Chief of Staff & Counselor to the Assistant Attorney General. In 2015, he was named one of Washington, DC's "40 most promising lawyers age 40 and under" by the National Law Journal.
Mr. Suleiman's recent representations include serving as co-lead counsel for airbag manufacturer Takata Corporation in connection with a criminal investigation by the U.S. Department of Justice that resulted in the company's February 27, 2017 guilty plea to one count of wire fraud. Mr. Suleiman also served as lead counsel for Asiana Airlines in an investigation by the National Transportation Safety Board into the crash of Asiana flight 214 at San Francisco International Airport. His work for Asiana was profiled in the National Law Journal's September 1, 2014 feature story, "Navigating the NTSB's Asiana Airlines Crash Investigation."
Mr. Suleiman maintains an active pro bono practice and serves on the Board of the Columbia Law School Alumni Association of Washington, DC. He is quoted frequently in the press and has published articles in the Wall Street Journal, the National Law Journal, Inside Counsel, and Law360.