Our Website Uses Cookies
We and the third parties that provide content, functionality, or business services on our website may use cookies to collect information about your browsing activities in order to provide you with more relevant content and promotional materials, on and off the website, and help us understand your interests and improve the website.
For more information, please contact us or consult our Privacy Notice.
Your binder contains too many pages, the maximum is 40.
We are unable to add this page to your binder, please try again later.
This page has been added to your binder.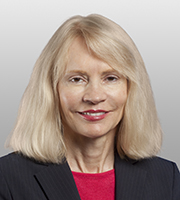 Anita Stork has carved out a niche representing Asian-based clients as lead counsel in complex, high-stakes antitrust and litigation matters. Chambers USA has described her as "bright" and "highly talented" with "a great practice."
Ms. Stork has special expertise in the automotive industry; she has represented a number of auto parts manufacturers in a variety of matters. She also has significant experience in consumer class actions and in handling internal investigations into employee misconduct, accounting fraud, and corporate malfeasance allegations.
Multiple publications have recognized Ms. Stork for her legal expertise, including Chambers USA: America's Leading Lawyers for Business, The Best Lawyers in America, Euromoney's Benchmark Litigation: National Star and California State Star, San Francisco and Los Angeles Daily Journal: Top Women Litigators, Law & Politics Magazine: Top 50 Women Lawyers in Bay Area, Northern California Super Lawyer, and Benchmark: Top 250 Women in Litigation (US).
Ms. Stork is co-chair of the firm's Antitrust Litigation Practice Group, and a former vice chair of the firm's Litigation and Antitrust and Competition Law Practice Groups. Frequently sought out as a speaker on antitrust and litigation topics, Ms. Stork also has been active in the Antitrust Section of the California State Bar. She served on the Section's Executive Committee, was Vice-Chair of Programs, and an Executive Committee advisor.
Coordinating counsel for a leading automobile manufacturer in the wide array of matters stemming from the recall of millions of automobiles.
In re Automotive Parts Antitrust Litigation - As lead counsel for the client, on early dismissal from price-fixing cases based on lack of personal jurisdiction for a German manufacturer of wire harnesses.
In re Transpacific Passenger Air Transportation Antitrust Litigation - Lead counsel for Philippine Airlines in putative class action alleging price-fixing of transpacific passenger fares and fuel surcharges. Persuaded the Ninth Circuit to grant an interlocutory appeal; argued a summary judgment motion based on the filed rate doctrine which eliminated a portion of plaintiffs' damage claims. Obtained other favorable rulings, including dismissal of billions of dollars in damages on FTAIA grounds, defeating plaintiffs' attempt to depose the client's CEO, and forcing plaintiffs to depose the client's witnesses in Manila.
In re Automotive Parts Antitrust Litigation - Lead counsel for Alps Electric, a supplier of automobile components in putative class action cases alleging price-fixing in the heater control panel market. Defeated plaintiffs' attempt to consolidate 18 parts cases into a case which would have exponentially increased the client's damage exposure. Also obtained an order forcing plaintiffs to depose the client's witnesses in Japan.
Represent an automobile parts manufacturer in antitrust cases alleging price-fixing in the fuel injection systems market.
Lead counsel for auto parts supplier in negotiation with auto maker over alleged price-fixing. The auto maker ultimately walked away without pursuing claims.
Represented the former Chief Investment Officer of Fixed Income for major mutual fund company in SEC lawsuit concerning investment in mortgage-backed securities.
Represented the Special Litigation Committee of Fortune 50 company in its internal investigation of alleged wrongdoing by officers, directors, and outside contractors. Litigated the accompanying shareholder derivative suit.
In re ATM Fee Antitrust Litigation - Represented large bank in putative class action regarding interchange fees. Obtained summary judgment on standing issues under Illinois Brick, which was affirmed by the Ninth Circuit.
Conducted Audit Committee investigation for food products producer in connection with SEC inquiry into the company's restatement of its financials.
Nomadix v. HP, et al., - Represented HP in patent litigation concerning network gateway devices.
In re Static Random Access Memory Litigation - Lead counsel for Integrated Device Technologies in price-fixing litigation. Secured dismissal of claims against the Company before opening of discovery.
In re Late Fee and Over-Limit Fee Litigation - Represented major bank in putative class action over setting of credit card fees. Won motion to dismiss all claims which was affirmed by the Ninth Circuit.
In re Cosmetics - Represented Dillard's, Inc. in class action case alleging vertical price fixing among major department store chains and manufacturers of high-end cosmetics.
In re Managed Care - Represented PacifiCare Health Systems in civil RICO class action case alleging a conspiracy to defraud doctors among 10 large managed care companies. First obtained dismissal for PacifiCare of more than 1 billion dollars in damages stemming from capitation practices, then obtained summary judgment on the remaining liability and damage claims.
Lead counsel for national baked-goods producer in government investigation under 17200 and 17500 of the Company's advertising and packaging practices.
Memberships and Affiliations
California State Bar Leadership

Advisor to the Executive Committee of the California State Bar Section on Antitrust and Competition Law (2007-present)
Executive Committee of the California State Bar Section on Antitrust and Unfair Competition Law (2004-2007)
Vice-Chair of Programs, Executive Committee of the California State Bar Section on Antitrust and Unfair Competition Law (2005-2006)
American Bar Association, Antitrust Law Section
American Bar Association, Litigation Section
Chambers USA, America's Leading Lawyers for Business, Antitrust (2004-2018)
Euromoney's Benchmark Litigation, "Top 250 Women in Litigation" - CA (2013-2017); National Star for Antitrust and CA State Star (2013-2017)
Legal 500 US, Civil Litigation/Class Actions (2017)
San Francisco and Los Angeles Daily Journal, Top Women Litigators (2009)
The Best Lawyers in America, Antitrust (2009-2017)
"Top 50 Women" lawyers in Bay Area, Law & Politics Magazine (2008-2010)
"Top 50 Women" lawyers, Northern California Super Lawyer (2008-2012)
Northern California Super Lawyer, Antitrust Litigation (2005-2017)