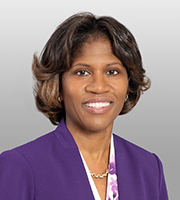 Simone E. Ross is a seasoned litigator who skillfully manages complex criminal and internal investigations and civil litigation for corporate and individual clients in various industries. Ms. Ross has represented clients in parallel criminal and civil proceedings conducted by the U.S. Department of Justice, the U.S. Securities and Exchange Commission, and other federal and state agencies, and in congressional investigations. She also has represented clients in litigation matters involving business torts, civil fraud, product liability, and employment disputes.
Ms. Ross previously served as Managing Vice President of Ethics & Investigations at a top 10 financial institution, where she built and led that institution's internal ethics and investigations department. Her responsibilities included oversight of the institution's enterprise-wide Code of Business Conduct and Ethics, briefing federal regulators, auditors, senior executive leaders, and board committees on ethics, investigations, and other risk management matters, and leading and implementing responses to regulatory and audit matters.
Ms. Ross also previously served in the U.S. Department of Justice as an Assistant United States Attorney in the District of Columbia, where she prosecuted criminal cases, and as an Assistant Counsel in the Office of Professional Responsibility, where she investigated prosecutorial misconduct allegations.