Our Website Uses Cookies
We and the third parties that provide content, functionality, or business services on our website may use cookies to collect information about your browsing activities in order to provide you with more relevant content and promotional materials, on and off the website, and help us understand your interests and improve the website.
For more information, please contact us or consult our Privacy Notice.
Your binder contains too many pages, the maximum is 40.
We are unable to add this page to your binder, please try again later.
This page has been added to your binder.
Krysten Rosen Moller
Associate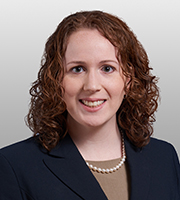 Krysten Rosen Moller's practice focuses on litigation and investigations, with an emphasis on serving clients in the healthcare industry.
Ms. Rosen Moller has significant experience assisting companies with complex internal and government investigations covering a broad range of issues, including fraud and abuse, advertising and promotion, and bribery and corruption. In addition, Ms. Rosen Moller represents companies in related litigation, including cases arising under the False Claims Act.
Ms. Rosen Moller also has experience counseling clients on compliance matters, including negotiating, implementing, and operating under HHS OIG Corporate Integrity Agreements.
Lead associate in successful representation of a subsidiary of a Fortune 10 company in False Claims Act litigation, resulting in the government filing a motion to dismiss on the eve of summary judgment and the court granting summary judgment on a large portion of the claims.
Represents healthcare industry clients, including manufacturers and distributors, in DOJ and HHS investigations relating to alleged violations of the False Claims Act and Anti-Kickback Statute.
Advises clients on implementing compliance programs and negotiating, implementing, and operating under HHS OIG Corporate Integrity Agreements.
Represents healthcare industry clients in False Claims Act litigation.
Won summary judgment in qui tam action brought under California Insurance Frauds Prevention Act in connection with alleged fraud on private insurers.
Won dismissal of all claims under public disclosure bar in False Claims Act qui tam action alleging that defendant caused underreporting of price information and miscalculated rebates.
Conducts internal investigations for pharmaceutical and medical device companies relating to marketing and promotion practices, arrangements with healthcare professionals, and other issues.
Represented Special Committee of the Board of a global company in connection with an internal, DOJ, and Europe-based investigation of foreign bribery issues, resulting in a declination by the DOJ and foreign law enforcement authorities.
Advised multiple pharmaceutical manufacturers on investigations and potential litigation related to employee or external theft of trade secrets.
Represented company in DOJ investigation relating to anti-money laundering issues.
Represents defendant in state false claims act litigation relating to false residency claims.
Represents a capital defendant in post-conviction proceedings in Alabama state court.
Successfully represented veteran in the Court of Appeals for Veterans Claims.
Conducted an internal investigation for a community health organization to respond to kickback allegations.
U.S. Securities and Exchange Commission, Division of Enforcement, Intern (2012)
U.S. Department of Justice, Civil Fraud Division, Intern (2010)
Education
Harvard Law School, J.D., 2012
magna cum laude
Harvard Law Review, Notes Committee and Governance Committee
Supreme Court and Appellate Advocacy Clinic
University of Florida, B.A., 2009
summa cum laude
Phi Beta Kappa