Your binder contains too many pages, the maximum is 40.
We are unable to add this page to your binder, please try again later.
This page has been added to your binder.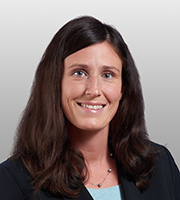 Jessica O'Connell provides strategic advice to a broad range of companies and trade associations in engaging with food and drug regulatory bodies and Congress. She assists clients in complying with U.S. regulatory requirements for the manufacture and sale of foods, dietary supplements, cosmetics, OTC drugs, and animal products, and the import and export of FDA-regulated products. In addition, she counsels clients regarding potential crises, such as recalls and unanticipated regulatory attention.
Ms. O'Connell joined the firm from FDA, where she served as an Associate Chief Counsel in FDA's Office of Chief Counsel from 2008 to 2014. While at FDA, Ms. O'Connell counseled various components of FDA and HHS on legal issues related to conventional foods, dietary supplements, and cosmetics. Specifically, Ms. O'Connell worked closely on implementing various provisions of the FDA Food Safety Modernization Act of 2011, including the sanitary food transportation requirements and food safety-related fees, and provided legal advice on agency actions regarding food additives and GRAS status, cosmetics and color additives, food and dietary supplement labeling claims, medical foods, and foodborne illness outbreaks and related actions, including recalls and other enforcement activities. In addition, Ms. O'Connell provided legal counsel to the agency regarding FDA's import and export activities for all FDA-regulated products.
Advised KIND in engagement with FDA regarding warning letter that led to successful resolution of all issues; assisted in developing a related citizen petition requesting that FDA update its "healthy" food labeling regulations consistent with current nutrition science.
Advise clients on GMO labeling and claims, including on potential approaches to compliance with new federal biotechnology labeling requirements.
Counsel clients during food safety crises such as outbreak investigations, product recalls, and market withdrawals, including a significant FDA, CDC, and state investigation of a Hepatitis A outbreak linked to an imported food product.
Advise clients on compliance with new FDA Food Safety Modernization Act (FSMA) and Nutrition Facts Label (NFL) requirements.
Provide regulatory support in FDA and FTC-related litigation matters, and advise major food, dietary supplement, animal health, and consumer product companies on strategies for minimizing risk of consumer fraud or class action litigation.
Advise companies receiving warning letters from FDA, including assistance in drafting responses to such letters that successfully resolved FDA concerns and averted further enforcement action
Drafted influential amicus brief in FTC contempt proceeding against a major dietary supplement marketer.
Successfully petitioned for removal of clients and clients' suppliers from FDA Import Alerts, and assisted a number of clients in obtaining releases of imported products held by FDA.
Provide regulatory and policy guidance regarding the development of a number of new food, dietary supplement, medical food, OTC drug, and cosmetic products, from formulation to labeling, marketing, and website design.
Conduct regulatory due diligence evaluations for mergers and acquisitions.
Memberships and Affiliations
Food & Drug Law Institute Update, Editorial Advisory Board
U.S. Food and Drug Administration, Associate Chief Counsel for Food