Our Website Uses Cookies
We and the third parties that provide content, functionality, or business services on our website may use cookies to collect information about your browsing activities in order to provide you with more relevant content and promotional materials, on and off the website, and help us understand your interests and improve the website.
For more information, please contact us or consult our Privacy Notice.
Your binder contains too many pages, the maximum is 40.
We are unable to add this page to your binder, please try again later.
This page has been added to your binder.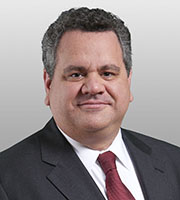 Jim O'Connell advises clients on their critical antitrust matters, including mergers and acquisitions, joint ventures, and other transactions; licensing arrangements and other business practices; government investigations; and litigation. In connection with his merger practice, he also regularly helps clients assess and comply with their obligations under the HSR Act and comparable merger control regimes around the world.
Clients and peers recommend Mr. O'Connell for his knowledge of antitrust law and his ability to provide expert and practical guidance. He is also recommended for his detailed understanding of the people and processes of the U.S. antitrust enforcement agencies, which he applies to help his clients navigate their most critical antitrust challenges successfully and efficiently. Legal 500 has described him as a "well-respected" practitioner who is "well connected with the DOJ" and recognized by clients for his ability to "quickly develop a high level of company-specific expertise."
Mr. O'Connell has represented clients in a broad range of industries and sectors, including leading companies in the e-commerce, pharmaceutical, medical device, financial services, telecommunications, electronics, cable, broadcast, alcoholic beverages, consumer products, industrial products and heavy manufacturing, energy and natural resources, steel, aerospace, defense, chemicals, gaming, and software industries.
Mr. O'Connell joined Covington after over five years of public service with the Antitrust Division of the U.S. Department of Justice, where he served in several leadership roles, including as Deputy Assistant Attorney General and Chief of Staff. As Deputy AAG, he had responsibility for the Division's appellate program and for the development of its major legislative and policy positions, such as those regarding intellectual property and the enforcement of Section 2 of the Sherman Act. His duties also included managing the Division's relations with its enforcement counterparts around the world, including those in the European Union, China, Brazil, Canada, Mexico, and Japan. This extensive international enforcement experience enables him to provide his clients highly informed and practical assessments of their U.S. and non-U.S. antitrust risks. Prior to his government service, Mr. O'Connell practiced antitrust law at an international New York-based firm.
A frequent speaker and writer on antitrust law and policy issues, Mr. O'Connell has also been a leader in the Antitrust Section of the American Bar Association for many years, serving in such positions as Chair of the editorial board of Antitrust, the Section's magazine, and as Co-Chair of the Section's Federal Civil Enforcement Section. He has also testified before the U.S. Congress and the Antitrust Modernization Commission, and he serves as a non-governmental advisor to the International Competition Network, which brings together competition enforcement authorities, academics, and leading practitioners from around the world to foster the development of best practices and encourage convergence on matters of antitrust policy.
Representation of Facebook in several transactions, including its $22 billion acquisition of WhatsApp, $2 billion acquisition of Oculus, and $1 billion acquisition of Instagram.
Advise a leading biotechnology company regarding intellectual property licensing and transactional matters.
Representing one of the world's largest steel companies in proceedings brought by a competitor before the International Trade Commission alleging antitrust violations of Section 337 of the Tariff Act.
Representation of Mitsubishi Heavy Industries in several transactions, including its acquisition of UniCarriers and, with Hitachi, the formation of Mitsubishi Hitachi Power Systems.
Advised a leading technology innovator regarding an investigation of its intellectual property licensing practices by China's National Development and Reform Commission.
Advise one of the world's largest financial exchanges regarding various transaction, investigation, and compliance matters.
Transactions
Representation of Verizon Communications in obtaining merger review clearance for several transactions.
Representation of Altice N.V. in obtaining merger review clearance for its $9 billion acquisition of Suddenlink Communications and its $17 billion acquisition of Cablevision.
Advised China National Tire & Rubber Co. regarding its $7.7 billion acquisition of Italian tire manufacturer Pirelli.
Representation of Qualcomm in connection with its acquisition of CSR plc.
Represented Telx Group, the data center, colocation, and interconnection company, in its acquisition by Digital Realty.
Advised Alliance Resource Partners regarding transactions in the coal industry.
Advise one of the world's largest aerospace companies regarding various confidential transactions.
Advised ITOCHU Corp. regarding several transactions.
Represented Exxon Mobil in obtaining antitrust clearance for its $41 billion acquisition of XTO Energy, at the time the largest transaction in the history of the natural gas industry.
Representation of one of the leading on-line platforms in Asia regarding investments in the U.S.
Representation of Chemtrade Logistics Inc. in obtaining merger review clearance for its $860 million acquisition of General Chemical Corp.
Representation of Stryker Corporation, the medical devices and equipment manufacturing firm, in obtaining merger review clearance for several transactions.
Advised MDA Corp. regarding the clearance of its acquisition of Space Systems/Loral.
Advised China Investment Corporation regarding investments in the U.S.
Represented Prysmian S.p.A., a global manufacturer of power transmission and telecommunications cable, in its $1.2 billion tender offer for cable and optical fiber manufacturer Draka Holding N.V.
Advised Newport Television LLC in connection with the sale of broadcast television stations to Sinclair Broadcasting, Nexstar Broadcasting, and Cox Media Group.
Represented oilfield services company Ameron International in obtaining antitrust clearance for its acquisition by National Oilwell Varco.
Advised Joy Global in connection with several transactions, including its acquisition of LeTourneau Technologies from Rowan Companies and its sale of LeTourneau's drilling systems and offshore products businesses to Cameron International.
Counseling
Advising a major international information technology company regarding antitrust compliance, transactions, and other competition issues, including those related to teaming agreements and government contracting.
Advised a significant developer and licensor of standard-essential technology regarding its intellectual property licensing program.
Advised media companies about antitrust compliance, transactions, and other competition issues regarding online platforms and the cable and satellite television industry.
Advised a major international manufacturer of industrial products regarding antitrust compliance, transactions, and other competition issues.
Advised numerous innovator pharmaceutical companies about competition issues relating to settlements of patent infringement litigation brought under the Hatch-Waxman Act.
Provided antitrust guidance to various television broadcasting companies.
Regularly counsel clients regarding potential competition law issues arising under China's Anti-Monopoly Law.
Develop successful and cost-effective strategies for responding to requests for information from the Antitrust Division and the Federal Trade Commission.
Litigation and Investigations
Advised a leading technology company in connection with U.S. antitrust and patent infringement litigation arising out of the assertion of standard-essential patents subject to a FRAND commitment.
Representation of Expedia in connection with the Antitrust Division's investigation of the Google/ITA Software transaction and the Federal Trade Commission's investigation of Google's search-related conduct.
Represented the executor of the estate of a mentally ill individual who died while in custody at the Alexandria Adult Detention Center (Walker v. Correct Care Solutions, LLC).
Advised the Rainforest Alliance regarding various matters.
Advised the Mountaineering Section of the Potomac Appalachian Trail Club regarding various matters.
Memberships and Affiliations
Non-Governmental Advisor, International Competition Network
Member of the American Bar Association's Section of Antitrust Law and Member of the Advisory Board on Section Reserves
Instructor, University of Virginia Law School (Advanced Antitrust Seminar)
Board Member, Friends of Francis Field
Legal 500 US, Antitrust - Merger Control (2017)
Recognized by The Am Law Litigation Daily as one of the "Litigators of the Week" (11/18/2016)
China Law & Practice, "Outbound Deal of the Year" (2016)
Washington DC Super Lawyers, Antitrust Litigation