Our Website Uses Cookies
We and the third parties that provide content, functionality, or business services on our website may use cookies to collect information about your browsing activities in order to provide you with more relevant content and promotional materials, on and off the website, and help us understand your interests and improve the website.
For more information, please contact us or consult our Privacy Notice.
Your binder contains too many pages, the maximum is 40.
We are unable to add this page to your binder, please try again later.
This page has been added to your binder.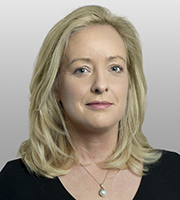 Louise Nash is a partner in Covington's London office.
Ms. Nash has a wide ranging corporate practice including mergers and acquisitions, joint ventures and collaborations and private equity (including venture capital). Her practice is international, with virtually all transactions upon which she advises having a cross-border dimension. As such, she has extensive experience of dealing with the challenges presented by complex cross-border projects. She has particular experience in the branded goods, life science and technology sectors and in advising on deals with a significant intellectual property element.
Giorgio Armani S.p.A. on numerous international transactions including:

the acquisition of its retail and wholesale business in the United Kingdom from long-term retail partner Club 21;
a collaboration with a listed Dubai property company for the development of a worldwide chain of Armani hotels and resorts;
a joint venture with an Indian property consortium for the import, sale and distribution of Armani branded goods in India; and
the re-purchase of a 50% equity stake in the A/X Armani Exchange brand and the related global licensing and retail arrangements.

Qualcomm Inc. on various European acquisitions including:

its $2.5bn recommended cash offer for CSR plc;
the purchase of assets in a UK-based 450 MHz handset design and manufacturing company;
the acquisition of Elata Holdings Limited; and
the acquisition of Trigenix Limited.

Microsoft Corporation in connection with its acquisition of the mobile device business of Nokia.
Chiquita Brands International on the re-organisation of its joint venture and fruit supply arrangements in Asia and the Middle East.
SR One, the corporate investment arm of GlaxoSmithKline, in various European investments including:

a Series C investment in Swiss company, Addex Pharmaceuticals Limited;
a Series A investment in UK-based Bicycle Therapeutics Limited; and
a Series B and follow-on investments in Syntaxin Limited.

Johnson & Johnson Development Corporation in various transactions, including their Series B and C investments in Atlas Genetics Limited.
Solarcentury Holdings Limited in various investment rounds including its Series B and Series C fundraisings.
VantagePoint Venture Partners on various European investments including its Series A investment in Solarcentury Holdings Limited, the UK's leading photovoltanic provider.
WTR1000, Transactions (2015-2016)
Euromoney Legal Media Group, Europe Women in Business Law Awards - Winner for M&A (2015-2017)

Euromoney Legal Media Group, shortlisted for Europe Women in Business Law Awards for M&A (2014, 2018)
The Lawyer Hot 100 (2014)
Chambers UK, Private Equity, Venture Capital Investment (2009-2019)
Legal 500 UK, Commercial Contracts (2015-2016)
Legal 500 UK, Venture Capital (2008-2016)
Legal 500 UK, Media and Entertainment (2008-2015)
Legal 500 UK, Pharmaceuticals & Biotechnology (2009)
Best Lawyers in the United Kingdom, Venture Capital Law (2014)
Super Lawyers - London, Corporate Finance (2013)
The Practical Law Company (PLC) Which Lawyer? England - Venture Capital (2008-2012)
IFLR European Awards 2015 - shortlisted in Deals of the Year: M&A