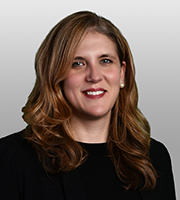 Micaela McMurrough is a special counsel in Covington's Litigation and Data Privacy and Cybersecurity practice groups. She has represented clients in high-stakes antitrust, patent, and securities litigation and other complex commercial litigation matters. She also advises clients on cybersecurity and national security matters.
In 2016, Ms. McMurrough was selected as one of thirteen Madison Policy Forum Military-Business Cybersecurity Fellows. She regularly engages with government, military, and business leaders in the cybersecurity industry in an effort to develop national strategies for complex cyber issues and policy challenges. Ms. McMurrough previously served as a United States Presidential Leadership Scholar, principally responsible for launching a program to familiarize federal judges with various aspects of the U.S. national security structure and national intelligence community.
Prior to her legal career, Ms. McMurrough served in the Military Intelligence Branch of the United States Army. She served as Intelligence Officer of a 1,200-member maneuver unit conducting combat operations in Afghanistan and was awarded the Bronze Star.