Our Website Uses Cookies
We and the third parties that provide content, functionality, or business services on our website may use cookies to collect information about your browsing activities in order to provide you with more relevant content and promotional materials, on and off the website, and help us understand your interests and improve the website.
For more information, please contact us or consult our Privacy Notice.
Your binder contains too many pages, the maximum is 40.
We are unable to add this page to your binder, please try again later.
This page has been added to your binder.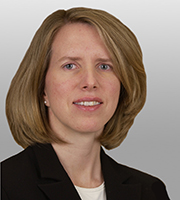 Emily Leonard is the vice-chair of the firm's Life Sciences Industry Group and a member of the corporate and intellectual property practice groups. She is resident in the firm's Palo Alto office.
Ms. Leonard concentrates in transactions for pharmaceutical and biotechnology clients, with an emphasis on complex strategic partnering and collaboration agreements, joint ventures, licensing and other technology transfer arrangements. She also advises clients ranging from early-stage ventures to large public and private companies with respect to the full range of clinical and commercial agreements that span the life cycle of a drug product or medical device, including technology evaluation, sponsored research, clinical study, clinical research organization, professional services, manufacturing and co-promotion agreements. Her early years at the firm also included experience in all facets of civil litigation, including second-chairing a three-week jury trial in which the jury returned a defense verdict for Covington's client in a defamation case, as well as representation of white collar and other defendants in criminal investigations and proceedings.
Astellas in a global alliance with Medivation to develop and commercialize a Phase 3 investigational drug for the treatment of prostate cancer, which involved an up-front cash payment of $110 million, up to $655 million in development and commercial milestone payments and a US co-promotion option based on profit sharing (nominated as a candidate for Alliance Deal of the Year (In Vivo Blog 2009)); and in a global licensing arrangement with Ambit to develop and commercialize a Phase 2 kinase inhibitor for acute myeloid leukemia, which involved a $40 million up-front payment, up to $350 million in pre-commercialization milestones, and a US co-promotion option based on profit sharing.
AstraZeneca in a strategic collaboration with Map Pharmaceuticals to develop and commercialize a Phase 3 product for the treatment of asthma, which involved upfront fees, milestones and funding commitments in excess of $900 million and a co-promotion option; and in a strategic collaboration with Abbott to develop and commercialize a fixed-dose combination therapy for cholesterol management.
Biosynexus in its reacquisition of rights to its lead antibody product for the treatment of staph infections in premature infants.
Gilead in a series of transactions with two multinational pharmaceutical companies concerning the development and commercialization of a combination antiretroviral drug, including various corporate and contractual arrangements for supply and distribution in the United States, the European Union, and the access countries.
Institute of OneWorld Health, a non-profit pharmaceutical company, in the negotiation of collaboration and other agreements for the advancement and commercialization of drug products for neglected diseases, particularly those that disproportionately affect developing world countries.
Medarex in a strategic alliance with a Japanese pharmaceutical company, involving the cross license of platform technologies consisting of transgenic and transchromosomic mouse technologies, and in connection with a number of other collaboration agreements concerning antibody products.
Novartis (formerly Chiron) in various transactions, including the divestiture of an epidermal delivery technology, and in the divestiture of certain patent families from its gene therapy portfolio.
P&G (formerly Gillette) in a worldwide licensing arrangement involving the acquisition of rights to exploit the first light-based aesthetic device to receive a 510(k) over-the-counter clearance from FDA.
UCB in connection with a strategic partnership pursuant to which it granted rights to Wilex AG, a German biotechnology company, with respect to a preclinical oncology portfolio, comprising two small-molecule programs and three antibody programs, and retained rights to reacquire such programs following completion of initial clinical feasibility studies.
Silicon Valley Business Journal, "2018 Women of Influence" (2018)
Chambers Global, Life Sciences: Corporate/Commercial (2020)
Chambers USA, recognized for Life Sciences: Corporate/Commercial (2007-2019)
Legal 500 US, Patents: Licensing (2016-2017); M&A: Commercial Deals and Contracts (2016-2017); Healthcare: Life Sciences (2013-2014, 2017); and Media, Technology & Telecoms (2013)
LMG Life Sciences, "Life Science Star" (2013-2019)
Northern California Super Lawyers, Business/Corporate (2013-2015)
The Daily Journal, Top Women Lawyers (2011)
PLC Which Lawyer? Life sciences: Commercial and Partnering (USA) (2008-2012)
Practices
Education
The George Washington University Law School, J.D., 1994
with honors

Law Review,

Editor

Moot Court Board, Member
Catholic University of America, B.A., 1990