Your binder contains too many pages, the maximum is 40.
We are unable to add this page to your binder, please try again later.
This page has been added to your binder.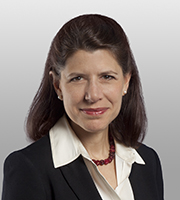 Clients come to Nancy Kestenbaum to handle their most important and sensitive government and internal investigations and litigation. With 25 years' experience as a defense attorney and former federal prosecutor, she has represented clients ranging from the largest multi-national companies to individuals in high-stakes criminal and civil enforcement investigations by the United States Department of Justice, Securities and Exchange Commission, and other federal, state and local criminal and civil regulatory agencies.
In the most recent 2015 Chambers USA edition, clients and peers described her as an "excellent strategist" "who really has a mastery of the issues" and is "terrific in a courtroom."
Ms. Kestenbaum is currently the co-chair of Covington's White Collar Defense and Investigations Practice Group and was formerly a member of the firm's Management Committee.
Ms. Kestenbaum has represented corporate and individual clients in the life sciences, financial services, energy, technology and defense industries. She has defended clients in a variety of cases, including those related to international issues, such as the Foreign Corrupt Practices Act and trade controls and sanctions; financial fraud, such as accounting fraud, insider trading and tax; pharmaceutical issues such as off-label marketing, anti-kickback and safety violations; and many other issues, such as public corruption or obstruction of justice.
Obtained DOJ declination, closing investigation without charges, after two-year FCPA investigation of oil exploration company Hyperdynamics. Resolved related SEC FCPA investigation without bribery charges.
Defended global and domestic pharmaceutical companies in investigations by the Department of Justice and state Attorneys General concerning marketing, physician interaction and drug safety and labeling issues.
Represented large accounting firm in DOJ, SEC and PCAOB investigations.
Represented multinational entities in investigations of export controls and sanctions.
Defended companies and individuals in DOJ and SEC insider trading investigations.
Represented non-profit in an investigation by the New York Attorney General's Office.
Defended companies and individuals in SEC accounting fraud investigations.
Conducted internal investigation on behalf of a University's Audit Committee concerning allegations of misconduct and retaliation by the University's President.
Defense of life sciences companies in litigation involving the U.N. Oil-for-Food Programme.
Representation of an individual in criminal tax case involving foreign bank accounts.
Along with the Center for Constitutional Rights, represented post-9/11 detainees in Turkmen v. Ashcroft, successful Second Circuit case reversing District Court's decision dismissing former Cabinet Officials from case involving claims of unlawful and abusive detention.
Assist the Campaign to Keep Guns Off Campus.
Represent federal prisoner in Clemency Project application process.
Successfully represented individual who obtained asylum from the Democratic Republic of Congo.
Represented individuals who successfully sued Cracker Barrel restaurants for discrimination in public accommodations.
Memberships and Affiliations
Association of the Bar of the City of New York, White Collar Crime Committee
Federal Bar Council
American Bar Association, Criminal Justice Section
Ms. Kestenbaum served for nine years as a federal prosecutor in the United States Attorney's Office for the Southern District of New York, where she investigated and prosecuted numerous cases in the District Court and Second Circuit Court of Appeals and served as Chief of the General Crimes Unit and Deputy Chief of the Criminal Division.

U.S. Attorney's Office, Southern District of New York, Chief, General Crimes Unit (2002-2003)
U.S. Attorney's Office, Southern District of New York, Deputy Chief, Criminal Division (2002)
U.S. Attorney's Office, Southern District of New York, Assistant United States Attorney (1994-2003)
U.S. Department of Energy, Office of Hearings and Appeals, Analyst (1985-1987)
Law360, MVP for White Collar (2015)
Selected by Chambers USA as a leading attorney in the areas of White Collar Crime and Government Investigations (2014-2017)
Global Investigations Review, Women in Investigations (2015)
Listed as a leading lawyer in Who's Who Legal: Investigations (2016-2017) and Business Crime Defence (2014-2015)
Best Lawyers in America, Criminal Defense - White Collar (2013-2018)
Euromoney, Benchmark: The Guide to America's Leading Litigation Firms and Attorneys - Future Litigation Star, NY (2013-2014)
Legal 500 US, Litigation - White Collar Criminal Defense (2012-2017) and Dispute Resolution - Securities Litigation (2017)
New York Super Lawyer, White Collar (2007-2017)