Our Website Uses Cookies
We and the third parties that provide content, functionality, or business services on our website may use cookies to collect information about your browsing activities in order to provide you with more relevant content and promotional materials, on and off the website, and help us understand your interests and improve the website.
For more information, please contact us or consult our Privacy Notice.
Your binder contains too many pages, the maximum is 40.
We are unable to add this page to your binder, please try again later.
This page has been added to your binder.
Jeffrey A. Kiburtz
Of Counsel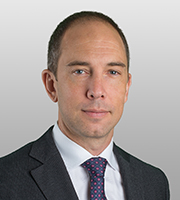 Working with clients in a variety of industries, Jeff Kiburtz has handled a wide variety of litigated and non-litigated matters involving commercial insurance of nearly all types, including commercial general liability, products, directors and officers liability, professional liability, cyber/privacy/network security, property, CCIP, OCIP, builders risk, and fidelity.
Sports, Media, and Entertainment
The United States Olympic & Paralympic Committee in insurance coverage matters arising from alleged athlete abuse, including defense of insurer's attempt to avoid coverage obligations (Philadelphia Indemnity Insurance Company v. United States Olympic Committee, District of Colorado).
Major band in prosecuting claims against event cancellation insurers and brokers for coverage of losses resulting from cancellation of concerts in the United Kingdom and due to terrorist attacks in Paris (Foo Fighters, LLC v. Certain Underwriters at Lloyd's et al., U.S. District Court, Central District of California).
Sports equipment companies in multiple lawsuits seeking coverage of nationwide product liability suits arising out of the use of football helmets, including successful interlocutory appeal (Riddell, Inc. v. Superior Court, 14 Cal. App. 5th 755 (2017)).
Major entertainment companies in various litigated and non-litigated matters.
Major powersports vehicle company in various insurance matters, including coverage for serious vehicle injuries, consumer class action lawsuits, and personal injury matters.
Sports equipment companies in defense of product liability insurer's attempt to avoid obligation to pay defense costs (Aspen Specialty Ins. Co. v. Riddell, Inc., et al., U.S. District Court, Central District of California.
Construction
Developer of high-rise tower in connection with coverage under CCIP program and other policies related to major subsidence issues.
Developers of high-end condominium project in litigation in Hawaii under OCIP and Pollution Legal Liability policies.
Developer of former military base in litigation under Pollution Legal Liability policy.
Construction products manufacturer in $55.3 million jury verdict for breach of contract, bad faith and punitive damages.
Project owner in connection with coverage for eight-figure settlement under project-specific design liability policy.
Owner of $10 million+ residential project in connection with OCIP wrap program and other contracting-phase coverage issues.
Prosecution of coverage and indemnity claims by construction manager sued for delay and other damages in multi-prime, design-build commercial project.
Additional Insured" coverage under policies issued to subcontractors that worked on commercial earthquake-retrofit and rehabilitation project.
Coverage litigation and mediation involving suit brought against general contractor for alleged defects in government laboratory building.
General contractor in litigation and mediation of claim involving $10 million in alleged construction defects damages suffered by casino owner.
Infrastructure contractor in coverage dispute involving eight-figure, catastrophic rollover suit.
Multiple clients in contracting-phase insurance advisory matters.
Cyber/Network Security/Data Privacy Breach
Major university research hospital in litigation involving alleged data security breach claim involving 20,000 patients; case resulted in one of the first court rulings that statutory damages for privacy breaches are covered under general liability policies.
Multiple clients in connection with the assessment and negotiation of policy language for cyber/network security/data privacy breach insurance policies.
Multinational service provider in connection with coverage under primary and umbrella general liability policies for putative class litigation involving alleged TCPA violations.
National retailer in litigation and negotiation of claims against its D&O and CGL insurers for coverage of class action claims alleging illegal recording of customer telephone calls.
Captive insurer of global professional services company in adjusting a nearly $40 million claim for costs of responding to a foreign government sponsored advanced persistent attack on its network.
Technology
E-commerce company in connection with placement of professional liability and data breach policy and related risk management issues.
Global software and professional service provider in recovery of almost $50 million under primary and excess technology professional liability policies for losses incurred in putative class litigation involving alleged fraud and conspiracy.
Software company in recovery under D&O and fiduciary liability policies for losses incurred in government investigations and private litigation related to allegedly "backdated" stock options.
IT service provider in connection with tail and other D&O coverage for claims against former directors and officers of acquired company and related indemnification issues.
Technology company in connection with claim for informal and formal investigation costs.
Claim under primary and excess professional liability policy for losses incurred in commercial IT services contract dispute.
Mergers and Acquisitions
Multiple clients on D&O, Side A DIC, workers compensation and other insurance issues related to the sale of U.S. assets by foreign companies.
Advised clients on representations and warranties insurance in connection with purchase and sale of companies with significant asbestos and environmental liabilities.
Insurance due diligence concerning coverage for projected asbestos liabilities.
D&O tower claim involving alleged fraudulent conveyance and related claims brought by trustee of insolvent, former subsidiary stemming from leveraged recapitalization transaction.
Environmental/Asbestos
Multiple clients in connection with analysis of long-tail coverage issues in jurisdictions throughout the country including California, Illinois, Indiana, Pennsylvania, New York, Texas, Wisconsin, Ohio, Washington, and Oregon; issues include trigger, "all sums" versus "pro-rata," stacking of limits and deductibles, premises versus products, number of occurrences, allocation, policies purchased by prior acquisition targets, successor liability, anti-assignment clauses, indemnity under asset purchase agreements, lost policies and insurance policy archaeology.
Multiple clients involved in brownfield redevelopment and claims for clean-up costs and liability under "cost cap" and environmental impairment liability (EIL) policies.
Coverage for response and other costs incurred in connection with release and alleged seepage from coal ash impoundments.
Private equity company in connection with $260 million+ acquisition of a building supply company with significant asbestos liability.
Plumbing distributor in asbestos liability coverage under more than 20 years of primary, umbrella and excess policies.
Healthcare/Life Sciences
Coverage litigation resulting in favorable ruling on insurer's efforts to have Illinois-domiciled case dismissed based on choice-of-law and forum selection clauses in German-language policy.
Advised oncology-focused biotech company on potential coverage for HIPAA violations and other risks under proposed privacy and network security policy.
Negotiation and mediation of claim involving coverage for losses incurred in internal investigation and dozens of product liability lawsuits under high-deductible insurance program consisting of captive, domestic commercial and Bermuda Form layers.
Advised biopharmaceutical company on potential coverage for investigative costs and other issues under proposed D&O renewal.
Arbitration and litigation involving coverage for loss exceeding $400 million stemming from suits brought worldwide by plaintiffs alleging HIV and Hepatitis-C infections from human plasma-derived products.
Life sciences company under clinical trials professional liability policy for claim involving death of participant.
Recovery under D&O policy for defense and settlement costs incurred in litigation involving allegations of improper pricing practices.
Multiple insurance coverage and non-insurance contractual indemnity issues arising from losses related to alleged contamination of China-sourced active pharmaceutical ingredient.
Financial Services
Multiple clients in connection with the placement and renewal of their D&O programs, including global credit card and payment services company, credit and special situation investment fund, and traditional financial institutions.
Global asset manager in connection with claims under D&O policies for investor suits involving various structured financial products.
Fidelity bond claim arising from failed community bank in Hawaii.
Negotiation and mediation of claim under trust errors and omissions policy for suit alleging mismanagement during conservatorship and trust administration.
Coverage litigation under D&O and financial institution bond for suit involving alleged "affinity fraud" committed by bank employees and customers.
Coverage litigation involving D&O policy for suit filed against publicly-traded community bank involving allegations that previously-acquired bank aided and abetted Ponzi scheme.
Memberships and Affiliations
Southern California Super Lawyer, "Rising Star" (2015-2016)
Education
University of California, Hastings College of the Law, J.D., 2003
University of Utah, B.S., 1999