Your binder contains too many pages, the maximum is 40.
We are unable to add this page to your binder, please try again later.
This page has been added to your binder.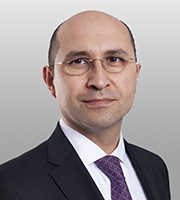 Adem Koyuncu is a German Rechtsanwalt and a partner in the life sciences practice. Dr. Koyuncu is double qualified as a lawyer and medical doctor.
Dr. Koyuncu advises clients on a broad range of EU and German law regulatory issues that affect pharmaceuticals, medical devices and other health and consumer products. His practice further covers compliance, privacy and liability matters and he also assists clients in transactions and IPOs.
Dr. Koyuncu is recognized as "Life Sciences Star" (LMG Life Sciences Europe 2015) and "highly recommended as a leading lawyer in Life Sciences" (Chambers Europe 2013). He is also described as "highly competent" and "very good and pleasant lawyer"(JUVE 2015) providing advice at "an outstanding level" (Legal 500 2015).
Prior to joining private practice, Dr. Koyuncu worked in the pharmaceutical industry, and before that practised as a medical doctor. Before joining Covington, he was co-head of the Life Sciences-group of another international law firm. He is recommended for his "understanding of complex regulatory issues, business acumen and industry experience" (Legal 500 2015).
Dr. Koyuncu is the author of numerous publications and frequent speaker at different events. As such, he will be speaking at following upcoming events:
Advised on regulatory requirements for drug distribution, marketing authorisations, market/data exclusivity, pharmacovigilance, clinical trials, GCP, GVP, GDP and GMP.
Medical devices distribution and regulatory compliance, obtaining CE marks and vigilance issues.
Advice on off-label-use of medical devices and drugs as well as "named patient use" and compassionate use programs.
Litigation before German courts (e.g., unfair competition, IP, liability cases).
Advice on product recalls with representation in product liability litigation and settlement negotiations.
Research with human biomaterial and biobanks and related data protection and contractual issues.
Numerous matters on advertising for drugs and medical devices, including unfair competition litigation.
Advised on organizational compliance in pharmacovigilance.
Advised on legal requirements for mobile health apps and telemedicine systems.
Advised on various aspects of market access, pricing and reimbursement for drugs and medical devices (including AMNOG, NUB).
Advised several clients in the establishment of company-wide compliance programs.
Internal investigations in cases with (1) suspected anti-corruption issues and (2) suspected violations of regulatory and privacy requirements for clinical trials.
Representation of clients in proceedings against distribution of counterfeited products.
Advised a US medical devices manufacturer in the acquisition of a German devices distribution company.
Regulatory and compliance due diligences in several transactions and IPOs.
Memberships and Affiliations
Visiting Lecturer at the Bucerius Law School, Hamburg, University of Marburg and at the University of Düsseldorf
Member of the Law360 Life Sciences Editorial Advisory Board (2015-2016)
Member of the Ethics Committee of the University of Dresden
Associated Member of the "Legal Working Group" (Arbeitskreis Recht) of BVMed, the German Medical Devices Industry Association
Vice-Chair of Legal Working Group of EUCOPE (European Confederation of Pharmaceutical Entrepreneurs)
Member of the "Life Science Committee" of the DVFA (Society of Investment Professionals in Germany)
Society for Law and Politics in Health Care (GRPG)
German Society for Medical Law (DGMR)
Member of the Editorial Boards of the following Legal Journals:

Pharma Recht (Pharma Law)
Medizinprodukte-Recht (Medical Devices Law)
Partner and co-head of the global Life Sciences-group at an international law firm.
Drug safety advisor in an international pharmaceutical company.
Member of the Ethics Committee of the University of Dresden.
Expert in several hearings before the German Parliament (health committee) on medical devices law (June 2012) and on pharmaceutical law (May 2016).
"Life Sciences Star" in LMG Life Sciences Europe 2014-2016
Who's Who Legal: Life Sciences 2016-2017
Chambers Europe
JUVE
Legal 500
PLC Which Lawyer?
Deutscher Arzt Recht Preis 2008 (German Medical Law Award)
Wissenschaftspreis im Gesundheitswesen 2005 (Science Award in Health Care)