Our Website Uses Cookies
We and the third parties that provide content, functionality, or business services on our website may use cookies to collect information about your browsing activities in order to provide you with more relevant content and promotional materials, on and off the website, and help us understand your interests and improve the website.
For more information, please contact us or consult our Privacy Notice.
Your binder contains too many pages, the maximum is 40.
We are unable to add this page to your binder, please try again later.
This page has been added to your binder.
Dr. Dr. Adem Koyuncu
Partner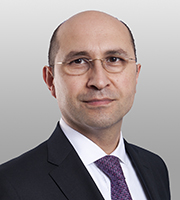 Dr. Koyuncu ist doppeltqualifiziert als Rechtsanwalt und Arzt und Partner in unserem Brüsseler und Frankfurter Büro. Er ist einer der Leiter der "Food, Drug & Device"-Praxisgruppe der Kanzlei und auch Mitglied der Compliance-Gruppe der Sozietät. Er ist einer der "führenden Berater für Pharma- und Medizinprodukterecht" (JUVE 2019)
Dr, Koyuncu hat eine breite Life-Sciences-Praxis. Er kennt den Gesundheitssektor auch aus seiner mehrjährigen Tätigkeit in der pharmazeutischen Industrie und als Arzt. Mandanten loben sein "Verständnis für komplexe regulatorische Probleme, unternehmerischen Scharfsinn und Industrieerfahrung" (Legal 500, 2015). Er berät Mandanten auch zu strategischen Fragen sowie in den Bereichen Compliance, Datenschutz- und Haftungsrecht. Er vertritt Mandanten vor Gerichten und Behörden und begleitet sie in Vertragsverhandlungen, internen Ermittlungen und Transaktionen. Dr. Koyuncu wird seit Jahren in verschiedenen Rankings geführt. Er wird als "vielseitig und kompetent" (JUVE 2019), "unglaublich reaktionsschnell" und als ein "sehr guter und angenehmer Anwalt" beschrieben (Juve, 2017), der auf einem "outstanding level" berät (Legal 500, 2015).
Er ist Autor zahlreicher Publikationen und häufig Sprecher auf Tagungen. Demnächst wird er auf folgenden Veranstaltungen auftreten:
COVID-19 Mandate: Beratung zu klinischen Studien; Sondergenehmigungen für Medizinprodukte; Haftungsfragen; Beratung zu Freistellungsvereinbarungen mit mehreren EU-Staaten.
Regulatorische und vertragliche Beratung zu CAR-T und Gentherapien.
Virtuelle medizinische Fortbildungen (Werbung, Compliance).
Mitwirkung in Litigation und Arbitration in Vertragsstreitigkeiten (Pharma).
Zahlreiche Anfragen zur Implementierung der EU-Medizinprodukteverordnung (MDR).
Beratung eines Pharmaunternehmens zum Unterlagenschutz und zur Marktexklusivität und Abwehr mehrerer Generika-Zulassungen.
Beratung eines Arzneimittelherstellers zur Verteidigung des Orphan-Drug-Status in der EU.
Beratung zahlreicher Mandanten zu unterschiedlichen regulatorischen Fragen (u.a. Pharmakovigilanz, klinische Prüfungen, GMP, GDP).
Beratung eines Pharmaunternehmens zur Umsetzung der Compliance-Anforderungen an die Pharmakovigilanz-Organisation (prä/post-Inspektion).
Beratung beim Outsourcing von klinischen Studien und anderen regulatorischen Aufgaben.
Beratung zu Rechtsfragen von Medical Apps sowie eHealth- und Telemedizin-Anwendungen.
Beratung zur Zulässigkeit und Kostenerstattung von Off-Label-Use von Arzneimitteln und Medizinprodukten.
Begleitung mehrerer Mandanten bei Rückrufaktionen.
Prozessführung vor deutschen Gerichten (z.B. unlauterer Wettbewerb, Haftungsfälle).
Zahlreiche Mandate zu Werbefragen für Arzneimittel und Medizinprodukte nebst wettbewerbsrechtlicher Prozessführung.
Beratung mehrerer Mandanten zur Forschung mit humanem Biomaterial sowie zur Errichtung von Biobanken.
Beratung zu Market Access und Erstattung von Arzneimitteln und Medizinprodukten (einschl. AMNOG, Nutzenbewertung, NUB).
Begleitung mehrerer Mandanten bei der Errichtung eines Compliance-Programmes (einschl. Mitarbeitertrainings und Tätigkeit als Ombudsperson).
Interne Ermittlungen für mehrere Mandanten bei Verdacht auf Korruptionsdelikte sowie bei Verdacht auf Verletzung regulatorischer Pflichten bei klinischen Studien.
Vertretung von Mandanten in Verfahren gegen Vertreiber gefälschter Produkte.
Due Diligence aus regulatorischer und Compliance-Sicht in mehreren Transaktionen und Börsengängen.
Mitgliedschaften und Lehraufträge
Lehrbeauftragter an der Bucerius Law School, Hamburg, Universität Marburg und an der Heinrich-Heine-Universität Düsseldorf
Mitglied des Law360 Life Sciences Editorial Advisory Board (2015-2016)
Mitglied der Ethikkommission der Universität Dresden
Assoziiertes Mitglied im "Arbeitskreis Recht" des

BVMed

, Bundesverband Medizintechnologie, Berlin
Vice-Chair der Legal Working Group von

EUCOPE

(European Confederation of Pharmaceutical Entrepreneurs)
Mitglied der "Life Science Kommision" der

DVFA

(Deutsche Vereinigung für Finanzanalyse und Asset Management), Frankfurt
Gesellschaft für Recht und Politik im Gesundheitswesen (

GRPG

), München
Deutsche Gesellschaft für Medizinrecht (

DGMR

), Köln
Mitglied des Herausgeberbeirats folgender juristischer Zeitschriften:

Pharma Recht (C.H. Beck)
Medizinprodukte Recht (Nomos)
Partner im Düsseldorfer Büro einer internationalen Anwaltskanzlei (zuletzt Leiter der deutschen und Co-Head der globalen Life-Sciences-Gruppe).
Drug Safety Advisor bei einem internationalen Pharmaunternehmen.
Arzt an der Universitätsklinik für Neurologie, Köln.
Sachverständiger in mehreren Anhörungen im Deutschen Bundestag zum Medizinprodukterecht (Juni 2012) und zur Reform des Arzneimittelgesetzes (Mai 2016).
"Leading Lawyer for Pharma and Medical Devices Law" (JUVE Handbook 2019/2020)
"Top Lawyer for Medical Law" WirtschaftsWoche (2019)
JUVE (2006-2019/2020)
Who's Who Legal: Life Sciences 2016-2019
"Life Sciences Star" in LMG Life Sciences Europe 2014-2016
Chambers Europe (2007-2020): Führender Name für Life Sciences
Legal 500
PLC Which Lawyer?
Deutscher Arzt Recht Preis 2008 (German Medical Law Award)
Wissenschaftspreis im Gesundheitswesen 2005 (Science Award in Health Care)
Ausbildung
Universität Mannheim, 2004
Universität zu Köln, 2001
Abschluss des Jurastudiums
Universität Würzburg, 2000
Universität zu Köln, 1998
Abschluss des Medizinstudiums