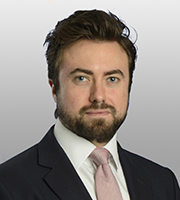 George Jenkins sits in Covington's Band 1 ranked Life Sciences Transactions team, specializing in advising life sciences and digital health clients on complex, strategic commercial agreements. In particular, he advises clients on structuring, negotiating and drafting their collaborations, joint ventures, IP licensing, co-development arrangements, and agreements for the manufacture, distribution, and supply of goods. Mr. Jenkins also regularly works closely with the firm's Corporate Practice Group on product divestments, asset transfers, and related transitional agreements.
Mr. Jenkins has experience in advising on regulatory matters in the life sciences sector, including advising on regulatory and licensing requirements to enable clients to develop and commercialize their products in the EU. He understands the regulatory environment affecting the life sciences industry and is able to assist clients in setting their commercial arrangements and transactions in their wider regulatory context.
Mr. Jenkins has also spent time in the in-house legal teams of a number of clients, including at the headquarters of a global pharmaceutical company.