Our Website Uses Cookies
We and the third parties that provide content, functionality, or business services on our website may use cookies to collect information about your browsing activities in order to provide you with more relevant content and promotional materials, on and off the website, and help us understand your interests and improve the website.
For more information, please contact us or consult our Privacy Notice.
Your binder contains too many pages, the maximum is 40.
We are unable to add this page to your binder, please try again later.
This page has been added to your binder.
Sarah M. Hoagland
Of Counsel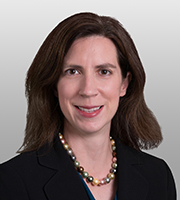 Sarah Hoagland is of counsel in the Corporate and Life Sciences practice groups. Her practice focuses on transactions for pharmaceutical and biotechnology clients, including licensing and collaboration arrangements, acquisitions and divestitures of pharmaceutical companies and products, marketing and co-promotion agreements, and supply and distribution transactions.
AbbVie in a novel collaboration with the Google-backed life sciences start-up company Calico focused on aging and age-related diseases, such as cancer and neurodegenerative diseases.
Eli Lilly in its agreement to terminate its alliance with Amylin Pharmaceuticals for Byetta and Bydureon and to resolve the outstanding litigation between the companies, involving a two-year transition of responsibilities outside the US and payments of up to $1.6 billion.
AstraZeneca:

in connection with its agreement granting Pfizer worldwide rights to sell an OTC version of AstraZeneca's blockbuster proton pump inhibitor, Nexium;
in connection with its global collaboration with The Medicines Company to develop and commercialize acute ischemic heart disease compounds;
in an exclusive, worldwide collaboration with Targacept, Inc. to develop and commercialize a late-stage investigational product for major depressive disorder, which involved upfront fees, milestones and funding commitments in excess of $1 billion;
in connection with a co-promotion agreement with Abbott Laboratories for AstraZeneca's CRESTOR®;
in its acquisition of assets relating to the mGluR receptors collaboration between AstraZeneca and NPS Pharmaceuticals; and
in a collaboration with Bristol-Myers Squibb Company to develop and commercialize two different products for the treatment diabetes.
Eisai:

in connection with a marketing and supply agreement with Arena Pharmaceuticals, Inc. for the exclusive right to commercialize lorcaserin for obesity and weight management in the United States;
in the acquisition by Morphotek, Inc. (a subsidiary of Eisai Inc.) of certain assets relating to a proprietary tumor targeting platform from TransMolecular, Inc.; and
in connection with a strategic drug discovery collaboration with Forma Therapeutics pursuant to which Eisai obtains non-exclusive access to Forma's Diversity Oriented Synthesis chemistry-generated compound library and cell-based screening platforms to support the discovery of novel compounds for Eisai's pipeline and an option for technology transfer of Forma's cell-based screening platform.

UCB in connection with a strategic partnership pursuant to which it granted rights to Wilex AG, a German biotechnology company, with respect to a preclinical oncology portfolio, comprising two small-molecule programs and three antibody programs, and retained rights to reacquire such programs following completion of initial clinical feasibility studies.
A biotechnology company in support of all aspects of contracting with respect to its pivotal clinical trial anticipated to involve over 100 sites in the United States, Europe and Canada, including CRO arrangements and clinical trial agreements.
Sabin Vaccine Institute in negotiating certain manufacturing arrangements in support of its clinical trial program.
Legal 500 US, M&A/Corporate and Commercial (2017); Healthcare - Life Sciences (2016); Patents - Portfolio Management and Licensing (2015-2016); and Media, Technology and Telecoms - Technology - Transactions (2015)
Washington DC Super Lawyers, Corporate "Rising Star" (2013-2017)

Practices
Education
University of Georgia School of Law, J.D., 2003
Johns Hopkins University, M.S., 2006
Georgia Institute of Technology, B.S., 1998