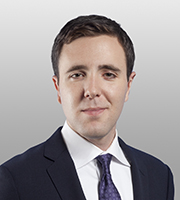 Michael Hill primarily advises media and technology companies, including major media groups, broadcast stations, entertainment networks, sports leagues and conferences and other video content providers and distributors, in connection with licensing and distribution arrangements across a broad range of platforms and business models.
Mr. Hill has particularly extensive experience drafting and negotiating complex television and video licensing and distribution agreements, including retransmission consent agreements, affiliation agreements, Internet and other new media distribution agreements and sports and other programming rights agreements. His practice extends across platforms and business models, encompassing broadcast, cable, satellite, IPTV, mobile, subscription video on-demand, "TV Everywhere", "over the top" and various other digital distribution models. Mr. Hill is particularly focused on assisting his clients with navigating new and cutting edge media opportunities, while simultaneously ensuring the protection of their valuable content and traditional business models.
In addition, Mr. Hill also has experience representing clients in connection with a variety of technology, intellectual property and data transactions, including software licensing agreements, development agreements, outsourcing agreements and a variety of other licensing and distribution arrangements.
Mr. Hill has also assisted clients with the media and intellectual property-related aspects of corporate transactions, most favored nations analyses and other general media-related advisory work.