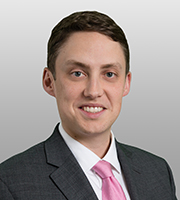 Daniel Grant is an associate in the firm's Washington, DC office, where he is a member of the Litigation and White Collar Defense and Investigations Practice Groups.
Prior to joining the firm, Mr. Grant served as a political appointee at the U.S. Department of Homeland Security (DHS), where he worked in the Office of the Secretary and the Office of the General Counsel. While at DHS, Mr. Grant collaborated with senior leadership on management issues and served as a liaison between the Secretary and component offices throughout the department to coordinate messaging, drafting of reports, and responses to incidents. Mr. Grant has also worked for federal, state, and local political candidates in Illinois, Massachusetts, and New Hampshire.
Mr. Grant maintains an active pro bono practice, currently focusing on immigration law matters.
Mr. Grant is a member of the Bar of Maryland. District of Columbia bar application is pending; supervised by principals of the firm.