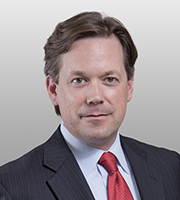 Jason Carey represents clients in litigation with the government and other private parties, counsels clients regarding a wide range of formation and compliance matters, and defends clients under investigation by federal and state governments. Mr. Carey regularly represents government contractors in bid protests before the U.S. Government Accountability Office and the Court of Federal Claims. He has prosecuted and defended more than 80 protests covering a wide range of procurements, such as:
aerospace and defense (including an $11B launch services contract);
biotechnology (including a $2B biodefense contract);
health care (including a $23B TRICARE contract);
information technology (including a $600M cloud services contract); and
telecommunications (including a $270M telephone system replacement contract).
Mr. Carey has won published GAO decisions for clients such as Accenture Federal Services, Maersk Line Limited, Northrop Grumman, UnitedHealth, and others. In addition to his reported GAO decisions, Mr. Carey has also successfully represented clients in dozens of other protests, by obtaining voluntary corrective action (where he has represented the protester) and by obtaining summary dismissal of the protest (where he has represented the intervenor-awardee).
Mr. Carey also counsels clients on all aspects of federal, state, and local government procurement and grant law with an emphasis on matters related to the formation of government contracts. He counsels clients extensively on organizational conflicts of interest (OCIs) — analyzing whether significant OCIs exist; preparing appropriate disclosures to the procuring agency; and developing strategies for avoiding, mitigating, or neutralizing any significant OCIs. He has expertise in the specialized approach to OCIs taken by certain agencies, such as the Centers for Medicare and Medicaid Services and the Department of Defense. Mr. Carey also assists clients seeking OCI waivers.
Mr. Carey regularly advises clients regarding strategies for protecting and preserving intellectual property rights (in patents, data, and software) when entering into and performing contracts, grants, and Cooperative Research and Development Agreements (CRADAs) with the federal government. He has provided counseling on intellectual property issues to numerous biotechnology firms entering the government marketplace, as well as other large and established high-technology clients. Mr. Carey also advises clients on a range of other matters, such as GSA schedule contracting requirements, the Buy American and Trade Agreements Acts, cost and pricing data requirements, and other contract administration issues.
Mr. Carey conducts internal investigations and defends clients under investigation by the federal government for violations of various federal statutes and regulations, including the False Claims Act, TINA, and export control laws and regulations. In one engagement, Mr. Carey represented a space technologies company in joint criminal and civil fraud investigations alleging overcharges in violation of FAR and the Cost Accounting Standards (CAS). Although commenced with a search warrant, the criminal case was declined and the civil false claims act case was dismissed by the court. In another engagement, Mr. Carey represented a large commercial supply company that was suspended and considered for debarment by a state government. After an administrative hearing and state court proceedings, the state agreed to void the suspension and cease debarment proceedings.
Mr. Carey has extensive litigation experience. He represents contractors in disputes with other contractors, including a jury trial in the United States District Court for the Eastern District of Virginia involving claims of trade secret misappropriation, business conspiracy and tortious interference with contract. He has litigated commercial cases in the following areas, among others: breach of commercial contract, misappropriation of trade secrets, breach of employment contract, patent infringement, and private Sherman Act antitrust claims. He has litigated cases before federal and state courts across the country.