Our Website Uses Cookies
We and the third parties that provide content, functionality, or business services on our website may use cookies to collect information about your browsing activities in order to provide you with more relevant content and promotional materials, on and off the website, and help us understand your interests and improve the website.
For more information, please contact us or consult our Privacy Notice.
Your binder contains too many pages, the maximum is 40.
We are unable to add this page to your binder, please try again later.
This page has been added to your binder.
Jason A. "Jay" Carey
Partner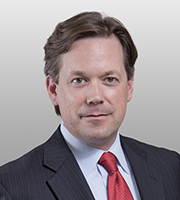 Jason Carey represents government contractors in litigation, counsels them regarding a wide range of formation and compliance matters, and defends them in investigations by federal and state governments.
Recognized by Chambers as one of the nation's top bid protest lawyers, Mr. Carey represents clients before the U.S. Government Accountability Office, the Court of Federal Claims, and state tribunals across the country. He litigates protests involving complex procurements often worth billions of dollars, across a wide range of industries — aerospace and defense; biotechnology; health care; cybersecurity; information technology; telecommunications; and others. A list of his recent wins is in the "Representative Matters" section below.
Mr. Carey also counsels clients on government contracts law and regulation, with an emphasis on matters related to the formation of government contracts. For example, he counsels clients extensively on organizational conflicts of interest, and on strategies for protecting intellectual property rights when entering into procurement contracts, grants, cooperative agreements, and "Other Transaction Authority" agreements with the government.
Mr. Carey defends government contractors under investigation by the federal and state governments. In one engagement, he represented a space technologies company in joint criminal and civil fraud investigations alleging overcharges in violation of FAR and the Cost Accounting Standards (CAS). Although commenced with a search warrant, the criminal case was declined and the civil False Claims Act case was dismissed by the court.
Won GAO protest overturning a $5 billion award by the Department of Energy for nuclear waste remediation at the Savannah River site (2018).
Won protest defense of Medicaid managed care contracts worth up to $15 billion against multiple protests in Kansas state court (2018).
Won GAO protest of 12 contracts worth up to $6.8 billion for medical disability exams by the Department of Veterans Affairs ("VA") (2016).
Twice won protest defenses, first at GAO and then at COFC, when the VA awarded 10 of those 12 contracts to our clients, and three competitors challenged those awards (2017).
Twice won protests at COFC overturning a $500 million award by the U.S. Navy to Fluor Federal Solutions for Base Operation Support Services on Guam (2018).
Won protest defense of $3 billion award by the Defense Health Agency under the Tricare Dental Program (2016).
Won protest defense at GAO protecting a $100+ million award by the Department of Homeland Security for a next-generation biometric analysis system (2018).
Won protest defense of $500 million pharmacy benefits manager contract in California state court (2017).
Won GAO protest of $100+ million contract by the Office of Personnel Management for investigative support services (2017).
Won protest defense at GAO of $150 million USAID award (2017).
Won protest defense at GAO of $400 million award by the Army for logistics and support services in Kuwait and Qatar (2016).
Won protest defense of $60 million award by the U.S. Air Force for engineering and technology acquisition support (2016).
Won protest defense of award for audit services by the Department of the Interior (2016).
Memberships and Affiliations
American Bar Association Public Contract Law Section, Vice Chair, Bid Protest Committee
Chambers USA, Government Contracts (2014-2019)
Legal 500 US, Government Contracts (2016-2017)
Law360, Government Contracts MVP (2016)
Named to BTI's "Client Service All-Stars" list by General Counsels and In-House Lawyers (2016, 2019)
Ranked as a "Top Lawyer" by the Washingtonian (2015, 2017, 2018).