Our Website Uses Cookies
We and the third parties that provide content, functionality, or business services on our website may use cookies to collect information about your browsing activities in order to provide you with more relevant content and promotional materials, on and off the website, and help us understand your interests and improve the website.
For more information, please contact us or consult our Privacy Notice.
Your binder contains too many pages, the maximum is 40.
We are unable to add this page to your binder, please try again later.
This page has been added to your binder.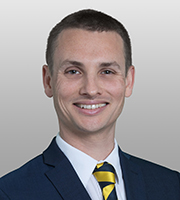 Calvin Cohen is an associate in the Washington, DC office. Mr. Cohen has experience representing clients in high-stakes investigations and related-litigation matters across a variety of industries. Mr. Cohen also advises clients on a broad range of data privacy and cybersecurity matters, including regulatory inquiries, litigation and internal investigations, transactional matters, and compliance with state, federal, and international privacy laws. Mr. Cohen has also advised clients in the area of government contracts.
While in law school, Mr. Cohen successfully represented an indigent plaintiff before the Sixth Circuit on a matter of first impression concerning computer monitoring software and the federal Wiretap Act.
Current representation of a client in nationwide class actions that allege claims of consumer fraud and personal injury arising from the use of an over-the-counter drug.
Successful representation of a client in privacy-related lawsuit arising under the Fair Credit Reporting Act (FCRA).
Advises multiple clients in responding to data and cybersecurity incidents, including subsequent internal investigations, state and federal notification obligations, and associated regulatory and litigation risks.
Advises clients in connection with transactional matters, focusing on regulatory and compliance issues involving data privacy, information security, and cybersecurity.
Assists clients in drafting privacy policies and terms of use for their websites, mobile applications, and other services and offerings.
Provides ongoing privacy and cybersecurity counsel to a number of companies, particularly with regard to their obligations under the California Consumer Privacy Act (CCPA), the General Data Protection Regulation (GDPR), and the Privacy Shield.
Completed a six-month pro bono rotation with the Neighborhood Legal Services Program, successfully representing low-income individuals in DC Superior Court in matters involving child custody, divorce, child support, and domestic violence.
Current representation of taxpayers in Baltimore County, MD, in dispute regarding the mismanagement of the local animal shelter.
Current representation of a community services organization in a civil matter in DC Superior Court.
Successful representation of a criminal defendant charged with armed carjacking and armed robbery in a four-day jury trial in Montgomery County, MD, culminating in a verdict of five acquittals and a mistrial on one count.
Representation of an individual to appeal the Virginia Department of Transportation's denial of his permit application to display gun violence protest signs.
Drafted amicus brief on behalf of multiple civil liberties organizations to support plaintiffs in dispute over border searches of electronic devices.
Education
Vanderbilt University Law School, J.D., 2016
Vanderbilt Law Review, Managing Editor
2016 Richard A. Nagareda Award
Best Oralist, Bass Berry & Sims Intramural Moot Court Competition
Appellate Litigation Clinic
University of California, Berkeley, B.A., 2010
With Distinction
Commencement Speaker
Judicial Clerkship
Hon. Theresa L. Springmann, U.S. District Court, Northern District of Indiana, 2016 - 2017