Eugene Yoon
Special Counsel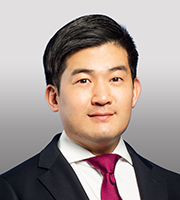 Eugene Yoon advises and represents strategic investors and private equity funds and their portfolio companies in a wide range of corporate transactions.
Mr. Yoon has represented clients in a variety of corporate transactions including cross-border mergers and acquisitions, private financings, joint ventures, recapitalizations, corporate governance, and other legal, regulatory, and compliance matters. Mr. Yoon regularly advises, and has extensive experience representing, Korean clients in cross-border transactions.
In addition, Mr. Yoon has significant experience advising issuers and underwriters in international capital markets transactions.
Prior to practicing law, Mr. Yoon worked as an investment banker at Morgan Stanley, where he executed on mergers and acquisitions, securities offerings and debt restructurings.