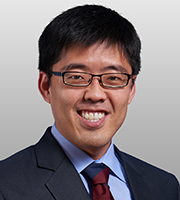 Brian Yang is an associate in the firm's corporate practice group and resident in the Washington, DC office. Mr. Yang's practice includes mergers and acquisitions, capital markets transactions, and general corporate matters. Prior to joining Covington, he was a software developer, with a focus on building distributed systems and designing domain-specific languages.
Salix Pharmaceuticals in its $2.6 billion acquisition of Santarus, Inc.
Aristocrat Leisure Limited in its $1.28 billion acquisition of Video Gaming Technologies.
Synchrony Financial (GE Capital's North American retail finance business) in connection with its approximately $2.95 billion initial public offering and related offerings of senior notes, and Federal Reserve Board approval as a standalone savings and loan holding company.
AstraZeneca in divestitures of multiple pharmaceutical products, including Myalept® to Aegerion Pharmaceuticals for $325 million and Toprol-XL® to Aralez Pharmaceuticals for $175 million, and in licensing certain rights and technology for products in development.
Mindtree Ltd. in connection with its acquisitions of Discoverture Solutions, Relational Solutions and Magnet360.