Your binder contains too many pages, the maximum is 40.
We are unable to add this page to your binder, please try again later.
This page has been added to your binder.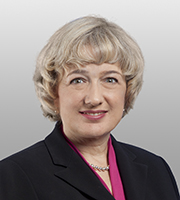 A litigator with three decades of experience, Sonya Winner handles high-stakes civil cases for clients in a wide range of industries, including banking, pharmaceuticals and professional sports. She has handled numerous antitrust and consumer disputes, many of them class actions, in state and federal courts across the country.
Ms. Winner's cases typically involve difficult technical issues and/or complex legal and regulatory schemes. She is regularly able to resolve cases before the trial phase, often through dispositive motions. But when neither summary judgment nor a favorable settlement is an option, she has the confidence of her clients to take the case all the way through trial and on appeal.
Ms. Winner has been recognized as a leading trial lawyer by publications like Chambers and the Daily Journal. She is chair of the firm's Consumer and Class Action Litigation practice group.
Representation of Wells Fargo Bank in multiple class actions under California's Unfair Competition Law (Section 17200) and Consumer Legal Remedies Act involving disclosures and other banking issues.
Representation of the San Francisco 49ers in a lawsuit challenging the National Football League's pat-down policy;
Representation of Bank of America in a nationwide antitrust class action challenging interchange fees on ATM transactions;
Representation of Procter & Gamble Pharmaceuticals in an antitrust and unfair trade practices lawsuit involving authorized generic pharmaceuticals;
Representation of the National Football League in an antitrust action concerning licensing of sports equipment;
Representation of Caliper Technologies in several patent infringement and trade-secret misappropriation cases involving patents on microfluidic and bioassay technologies;
Representation of Bank of America in an antitrust class action involving credit card interchange fees;
Representation of Del Monte in a software licensing and copyright infringement dispute;
Representation of UBS Financial Services in a securities fraud action concerning collateralized debt obligation investments sold to a Hawaii bank;
Representation of picoTurbo, Inc. in a patent infringement case involving seven patents on microprocessor design technology; and,
Representation of InterMune, Inc. in a California Section 17200 action involving patient access to experimental drugs.
Daily Journal, Top 100 Women Lawyers (2017)
San Francisco and Los Angeles Daily Journal, Top Women Litigators (2007-2010, 2012-2013, 2016)
Northern California Super Lawyers, Antitrust Litigation (2005-2016)
Chambers USA - America's Leading Business Lawyers, Litigation/General Commercial (2010-2011)
Legal 500 US, Trade Secrets - Integrated Service, Advice and Litigation (2007)
Education
Harvard Law School, J.D., 1982
Michigan State University, B.A., 1979
high honors
Honors College
Judicial Clerkship
Hon. Louis F. Oberdorfer, U.S. District Court, District of Columbia, 1982 - 1983
Bar Admissions
California
District of Columbia